You are probably sick of hearing me say that I love tacos. But that's too bad, because this is my blog and I can do what I want. So, as I was saying, tacos are the stuff of my dreams and happily, this dream is readily attainable. In just about 15 minutes, you too can make this instant pot shredded chicken. Seriously, this recipe alone makes my instant pot worth the purchase.
Now, you can make these tacos as simple or complicated as you want. You are in charge of your taco future and no one should tell you how hard to work for it. That being said, the base of flavor for this chicken comes from the taco seasoning - and the salsa. Sure, you could go buy a mix from the store. Or instead, you could whip up your own batch of easy homemade taco seasoning, without leaving the comfort of home. Doesn't it sound better to never have to remove your pajama pants, which I assume everyone wears at all times while home? And if you really want to impress yourself serve this chicken in some homemade corn tortillas.
FAQs
Can you cook chicken from frozen in an instant pot?
Actually, that's my favorite thing about pressure cookers. Using frozen chicken instead of fresh simply takes about 2-3 minutes longer to cook. You should see no difference in the quality of your result!
Why make taco meat in an instant pot instead of a crockpot?
While both appliances can help to reduce the effort that you put into cooking, the big difference between the two is the time that it takes to cook something. A crockpot slowly cooks things all day so you can leave it and do your thing. On the other hand, an instant pot is very fast so you can make food last minute.
Can you freeze cooked shredded chicken?
Absolutely you can! It's a great idea to make extra chicken for just this purpose. To freeze the chicken, spread it out in a single layer on a parchment paper lined baking sheet and stick it in the freezer for a couple of hours or overnight. Then, move the chicken to air tight containers. This prevents the chicken from sticking together, allowing you to take out just as much as you want later. The chicken should maintain its quality for 2-3 months in the freezer.
What can you use shredded chicken for?
Now of course you know already that this chicken is great for tacos. However, I also like to keep some in the freezer to use for nachos, soups, enchiladas, sandwiches, and wraps. If you intend to make some chicken for a purpose besides tacos, you can switch up the seasonings as desired; just make sure to always keep at least 1 cup of liquid in your recipe, to make sure that the instant pot can reach the proper pressure.
Additional Taco Tuesday Recipes
Sweet Potato Tacos: Don't forget your vegetarian or vegan friends on this, the holiday of holidays. These zesty sweet potato tacos can be made in the air fryer or oven in as little as 20 minutes.
Hot and Cheesy Corn Dip: This corn dip is perfect for all of your taco, nacho, and tortilla chip needs. It is also and excellent way to step up your snack game.
Homemade Pico de Gallo: Add some freshness to your spread with some classic pico de gallo.
Topping Suggestions for Shredded Chicken Tacos
Chopped onions
Sliced green onion
Cilantro
Lime
Sriracha
Drizzle of ranch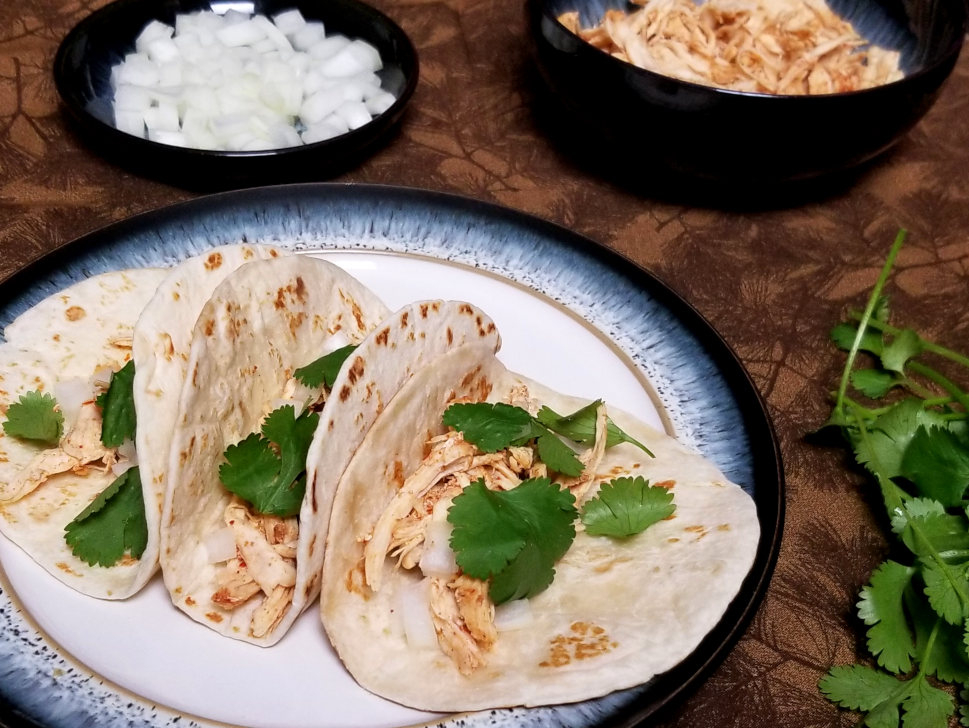 Get that pressure cooker running, chop your favorite toppings, then go forth and eat tacos. They're worth the effort and so are you.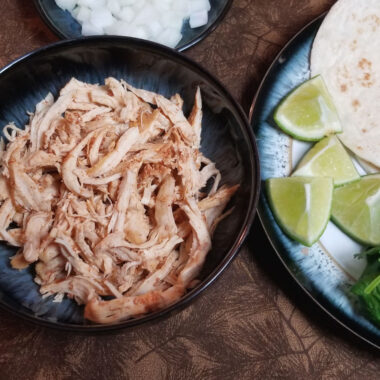 Instant Pot Shredded Chicken For Tacos
These chicken tacos can be as simple or complicated as you want to make them. Regardless, this instant pot chicken tacos are super easy and surprisingly fast!
Equipment
Pressure cooker/Instant Pot
Ingredients
1

lb

boneless, skinless chicken breasts or thighs

frozen or thawed

1

tablespoon

taco seasoning

4 ½

oz can

chopped green chilies

½

cup

salsa of choice

choose wisely

¾

cup

chicken stock
Instructions
Place chicken in the bowl of your instant pot. Distribute taco seasoning evenly over the top of the chicken. You have permission to use more than 1 tablespoon if you prefer. Add green chilis, salsa, and chicken stock to the instant pot.

Seal your instant pot and set it to high for 12 minutes, if you had time to defrost your chicken, or 15 minutes if you did not. If you add more than a pound of chicken, increase the time by an additional minute or two (depending on the quantity).

Check that the chicken has reached 165 °F, then pull it out of the instant pot and allow it to cool slightly before shredding it either with forks or your hands.
Nutrition
Serving:
1
taco
Calories:
124
kcal
Carbohydrates:
11
g
Protein:
15
g
Fat:
1
g
Cholesterol:
33
mg
Sodium:
215
mg
Potassium:
14
mg
Fiber:
2
g
Sugar:
2
g
Vitamin A:
3
IU
Vitamin C:
6
mg
Calcium:
1
mg
Iron:
2
mg