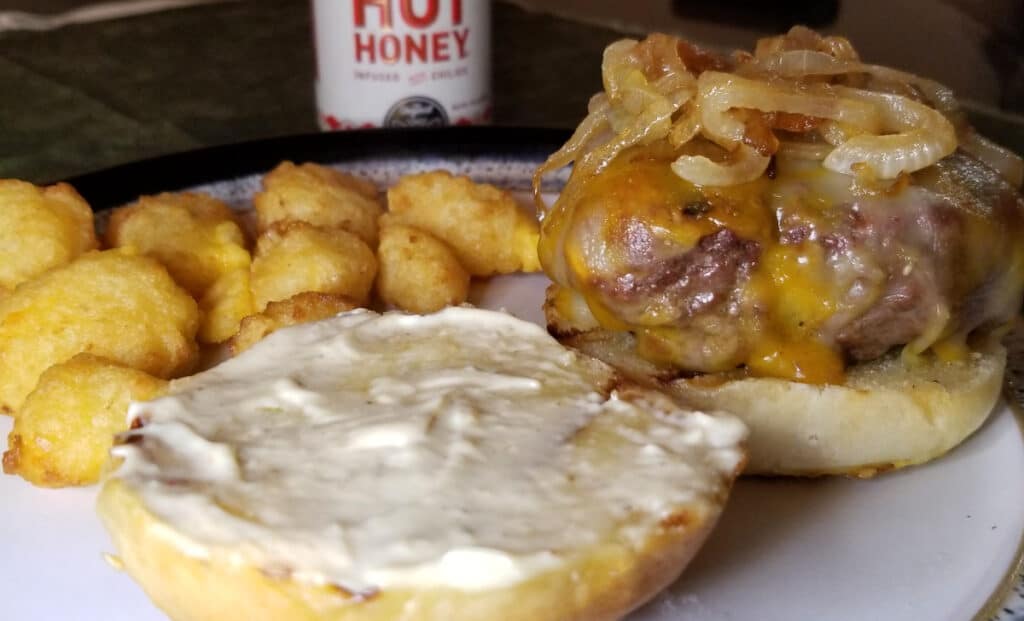 My dad makes good burgers. They've even been nicknamed "Billy burgers" and have been requested by many a friend and family member. In an effort to keep up with this very important family legacy, I submit this recipe as tribute. These juicy burgers are simple to make, more difficult to ruin, and packed with flavor. Who knows, when your friends and family try them, they might even give your burgers a cutesy nickname - and who doesn't want that?
What makes these burgers special?
Shredded onion: This is the main secret to the juiciness of this burger. It is essential that the onion is in very small pieces, which is why I do not recommend just cutting it. You can shred the onion or toss it into a small blender-like device and give it a few pulses. I have an old magic bullet that I got for $5 at a garage sale that works great for this purpose. Either way, be sure to incorporate the onion juices into your burger by for example, shredding the onion over the bowl of meat or pouring in the full contents of the blender.
Mushroom powder:
What is mushroom powder? It is simply dried mushrooms ground into powder.
Why use it? Mushrooms have a natural umami flavor which can enhance the flavor of meat. The powdered version allows for an even distribution of flavor, with none of the sensory problems often associated with the texture of mushrooms. If you can't find the ingredients or willpower to use mushroom powder, just leave it out. You'll miss out on some flavor but your burgers will still be good.
How can I find it? Most standard grocery stores sell a couple of options of dried mushrooms in their produce section. Good options are oyster, porcini, or shitake mushrooms. Once you have acquired dry mushrooms it is simply a matter of crushing them into powder. My cheap magic bullet takes care of this in about 3 seconds. A mortar an pestle, spice grinder or unused coffee grinder are also great options. If you don't have any of those, your fist, a meat tenderizer, or a rolling pin smashed against a bag of mushrooms will also do the trick. Think of crushing graham crackers in a ziploc; it's basically that - but mushrooms. Don't have time for that nonsense? Buy some mushroom powder on amazon instead.
Dijon mustard: This classy mustard contributes a bit of acidity and tang to round out the flavor of the burger. Once again, it comes back to the fact that life is about balance. Balance your sweets with vegetables, your laziness with exercise, and your beef burgers with fancy mustard.
Jazz the burgers all the way up
Homemade buns: I swear I'll be coming out with a great burger bun recipe soon but until then, try these. You don't have to use homemade buns to make a good burger but it does make you feel like a pro.

Cheese: Ok, it's not that fancy to add cheese to a burger but it has to be mentioned because cheese is always special. Go classic with American or cheddar cheese, keep it mild with provolone or swiss, try it smoky with some gouda, or get little spicy with pepper jack.

Add some umami: Caramelized onions or sautéed mushrooms are both excellent options to incorporate some extra umami flavor into your burgers.
Fresh vegetables: Add some brightness to your burger with some veggies. Try some peppery arugula, a slice of freshly harvested tomato, or top your patty with some jalapeño to heat things up.
Sauce: Try sriracha aioli or switch up the seasonings to make it your own!
Side dish options
I'm not in charge of you, so if you want to eat 4 burgers and no sides, you do you. However, I'll leave these recipe links here, just in case you want a little something something to accompany your burger experience.
Get your patties grilling, your buns toasting, and take a minute to appreciate all of the evolutionary and technological leaps that made this moment possible. You don't have to "win the lottery" to be thankful.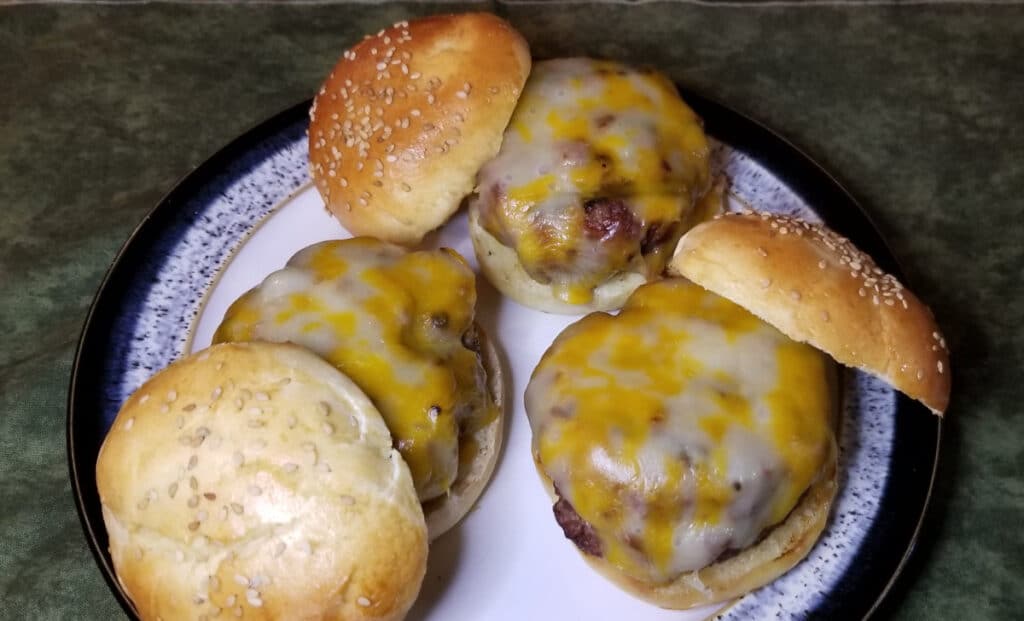 Juicy burgers with sriracha aioli
A juicy, umami filled burger. Easy to make, hard to ruin.
Ingredients
Burgers
1

pound

85 % lean ground beef*

¼

cup

shredded onion

or pulsed in a small food processor

1

teaspoon

dijon mustard

1

teaspoon

worcestershire sauce

1

teaspoon

mushroom powder**

½

teaspoon

garlic powder

½

teaspoon

salt

¼

teaspoon

black pepper

4

hamburger buns

toasted or lightly grilled with oil
Sriracha aioli (optional)
¼

cup

mayonnaise

½

teaspoon

sour cream

¼

teaspoon

dijon mustard

½

teaspoon

sriracha

more to taste

⅛

teaspoon

garlic powder

⅛

teaspoon

cayenne

pinch of salt
Other optional toppings
lettuce

arugula, romaine, or iceberg

cheese slices

American, cheddar, swiss, provolone, gouda, or pepper jack

sliced tomato

sliced red onion

caramelized onions

sautéed mushrooms
Instructions
Line a large plate or a cookie sheet with parchment paper.
Burgers
Measure all burger ingredients (minus the buns) into a medium sized bowl.

Use your hands to mix together the burger ingredients. Make sure to break up any large pieces of ground beef but be careful not to overmix.

Split the meat mixture into 4 equal parts and lightly flatten each until they are about 4 inches in diameter.

Place the patties on the parchment paper, then use a couple of fingers to gently make a small crater in the center of each patty. This little dip in the meat will stop the burgers from ballooning out when cooked.

Gently cover the burgers and move them to the fridge for about 30 minutes.

Meanwhile, pre-heat your grill to medium high heat. Be sure to clean your grill before adding the burgers, in order to prevent them from sticking. If you don't have the ability or willpower to clean the grates, apply a light layer of oil to them just before starting the burgers.

Move the patties to the grill and cook them for 4-5 minutes per side, until they've reached your preferred doneness.

If desired, toast the buns on the coolest part of the grill for about 30 seconds. A little olive oil or butter applied just before grilling will make for the best grill marks.

Spread aioli on the burger buns, if desired, and add any chosen toppings to your burgers before serving.
Sriracha aioli
Mix together all ingredients and refrigerate until ready to use.
Notes
*If you can't find this exact leanness of ground beef or simply prefer something else, that's ok too. This is my preferred leanness for burgers but I have made it work with other ratios. 
**You can make your own mushroom powder using dried mushrooms such as porcini, oyster, or shitake. These are commonly found in the produce section of the grocery store. To grind them into powder, toss them into a small food processor, spice grinder, unused coffee grinder, or a mortar and pestle. Alternatively, place them in a sealed bag and whack them with your preferred tool until they are powdery.