One of my favorite ingredients to have on hand is a high quality chicken stock. My favorite way to procure that stock? Make it with my scraps! How many dishes do you make that use onion, carrot, celery, garlic, mushrooms, or fresh herbs? I'd be willing to bet quite a few. Now, stop throwing away all those taste morsels. Whenever you peel or trim, simply pop that bit in a sealable bag and store it in your freezer until you've got at least half a gallon bag worth of scraps.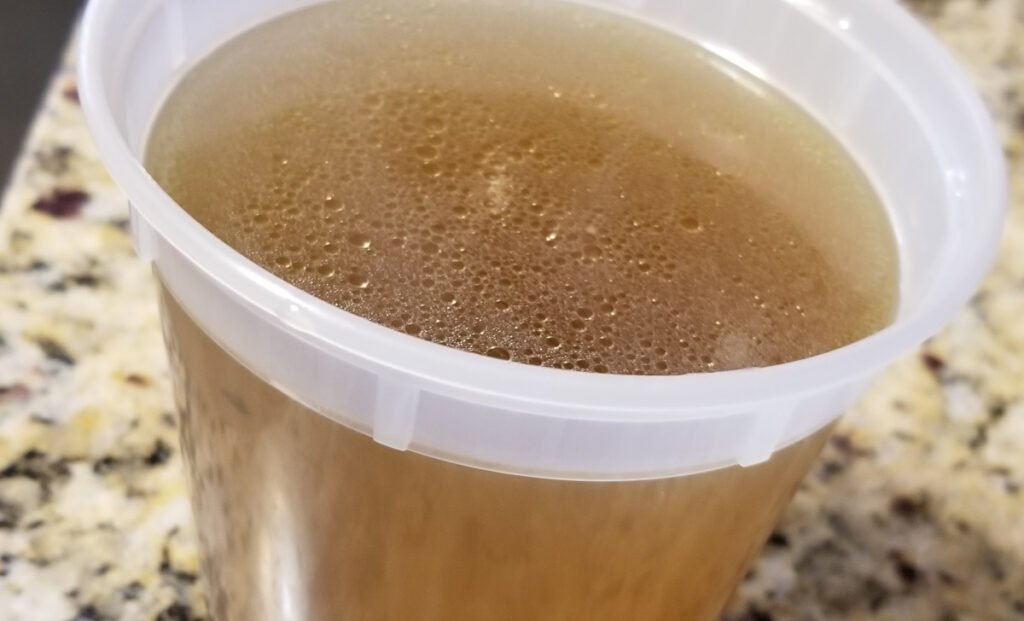 What to add and avoid in your chicken stock
There are a few vegetable scraps that you'll want to avoid for this. Brassicas (Asparagus, kale, broccoli, brussel sprouts, etc.) will contribute a bitter flavor to your stock. Potatoes are ok in small quantities but too many can contribute too much starch. Additionally, any spoiled bits of vegetable do not belong in your scrap bag. Compost those suckers; the microbes will thank you.
To get a a rich chicken stock you'll also need some chicken bones...and it doesn't hurt to have skin, fat, and extra bits of meat. I like to make a whole roast chicken for dinner and after I've picked all the meat off, I use the extra bits for this stock. Otherwise, you can save chicken bones and fat each time you trim chicken for another meal. Just freeze those bits like your vegetable scraps. And if anyone asks you why you keep freezing bones...well, I guess, just wink at them? They'll probably become uncomfortable and stop asking stupid questions. You don't need that kind of negativity in your life anyway.
Alright, you've got your frozen vegetable scraps and bones. All that's left now is some basic seasonings, namely bay leaves, black peppercorns, and salt. You'll throw all of your scraps, the bay leaves, and pepper in a large stock pot and cover it all with water. Then, bring it to a boil, reduce the heat, and go poke your kids, or husband, or pets -look, I don't care who you poke- for a couple of hours. Strain out your scraps, add salt to taste, and you'll be ready to freeze your own homemade chicken stock!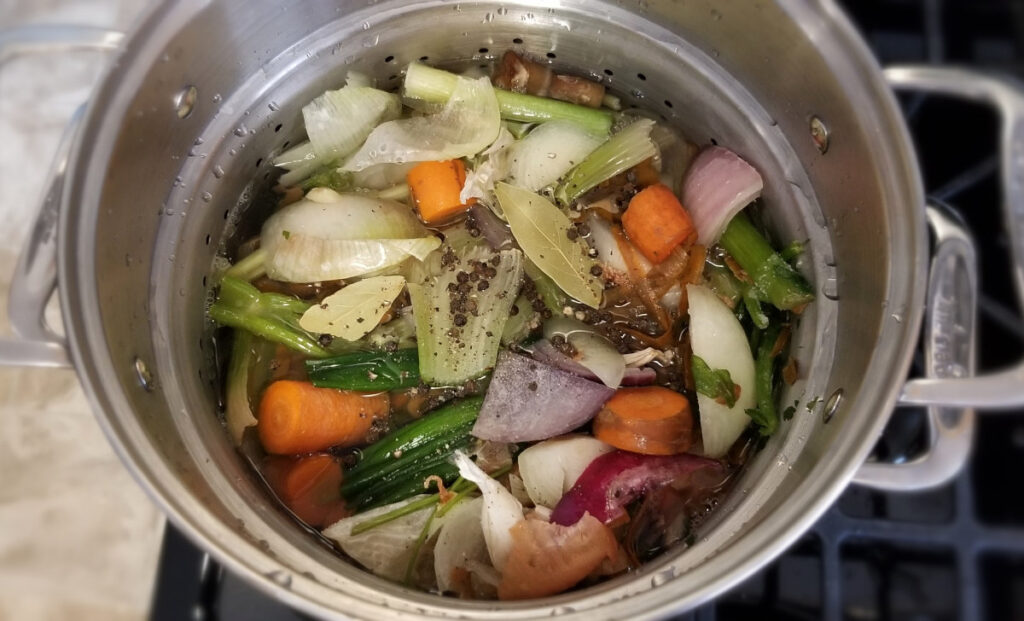 In my stock pot I am able to add about 5 quarts of water, resulting in roughly 4 quarts (a gallon) of stock. That amount of stock usually lasts me until I have filled another freezer bag of scraps. Now, stop wasting your scraps, put your stock pot to use, and stop buying chicken stock. Your taste-buds, wallet, and that pesky sense of guilt over slowly ruining the planet will all thank you.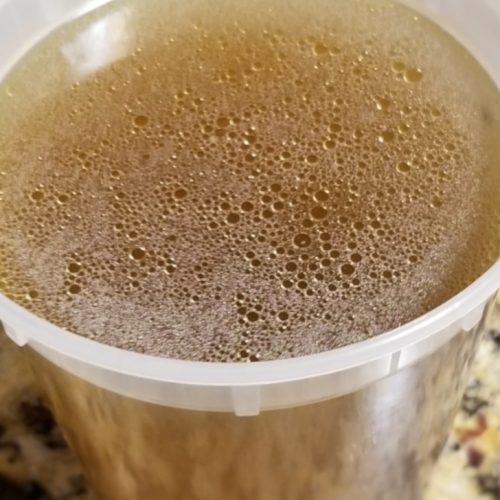 Low-Waste Homemade Chicken Stock
Use your vegetable and chicken scraps to make a rich, low-salt homemade stock for the base of all your soups.
Equipment
Large stock pot and a Strainer
Ingredients
½-1

gallon

frozen vegetable scraps

1

chickens worth of bones, skin, fat, and extra meat

2

teaspoon

whole peppercorns

2

bay leaves

5

quarts

water

or enough to cover all scraps in your pot

salt

to taste
Instructions
Place vegetables and chicken in the bottom of a large stockpot

Pour enough water into the pot to cover all scraps

Add in peppercorns and bay leaves

Bring pot contents to a boil

Reduce heat to low and simmer, very lightly, for 3 hours, uncovered

Strain stock to remove all scraps. You can use cheese cloth to create a clearer stock if desired.

Salt stock to taste. Remember that this is a base and should not be excessively salty.

Allow to cool in the fridge overnight

Separate stock into volumes that you'll be likely to use and freeze