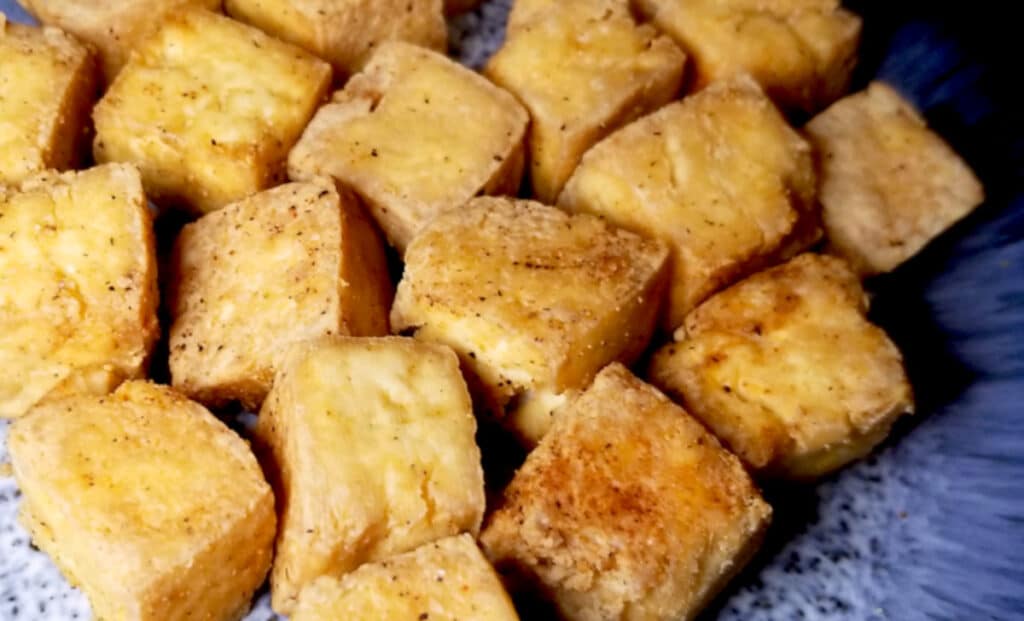 I have loved tofu ever since middle school, when I suddenly became a vegetarian. Although I'm no longer a vegetarian, I like to keep crispy tofu in the house to add easy protein and texture to a whole multitude of dishes. Besides, it's fun to prove people wrong when they're adamant that they don't like the stuff. When cooked properly, air fried tofu is crispy on the outside, with a little give in the middle. Better yet, you can make it taste however you want, due to its sponge-like nature. 10/10 would eat again.
Tips for making perfect tofu in the air fryer
Season your tofu: The level and type of spice depends entirely on the end use. If, like me, you want to have the tofu ready for any number of dishes, start simple with just salt, pepper, and some garlic powder. However, cater the seasoning to your meal, if you know what it is. Just don't forget the salt and pepper, which is also a great general life tip.
Lightly oil the air fryer basket: You do not need or want a lot of oil in the air fryer basket. However, a little spritz of olive oil or a light coating with an oil dipped paper towel will help prevent the tofu from sticking. You will lose seasoning if the tofu sticks, so it's best not to hedge your bets.
Shake up the tofu frequently: Nothing crazy here, just give the tofu a little jostle every 5 minutes or so, to keep it cooking evenly. This will ensure you get a crispy coating on all sides.
How to make tofu in the oven instead
Heat the oven to 375°F. Follow the directions for cutting and seasoning the tofu as described in the recipe card. Lay tofu out evenly on a parchment covered baking sheet. Cook the tofu for 30 minutes, shaking the tofu every 10 minutes.
What dishes work well with crispy tofu?
How to store
Fridge: Cooked tofu can be stored in the fridge for 4-5 days. If the leftover tofu is not crispy enough, toss it in the air fryer at 400°F for 3-5 minutes before eating.
Freezer: Freeze tofu flat on a cookie sheet, then transfer to air tight containers to prevent the pieces from sticking. Frozen tofu is great to throw into ramen, pho, stir fries, and curries for a nice protein boost.
Get your tofu seasoned and crispy, then thank yourself for adding more variety to your protein intake. Variety makes life worth living, so keep it up.
Note: I may receive a commission for any product purchased through the links in this post. However, I will not recommend something that I do not think is good quality.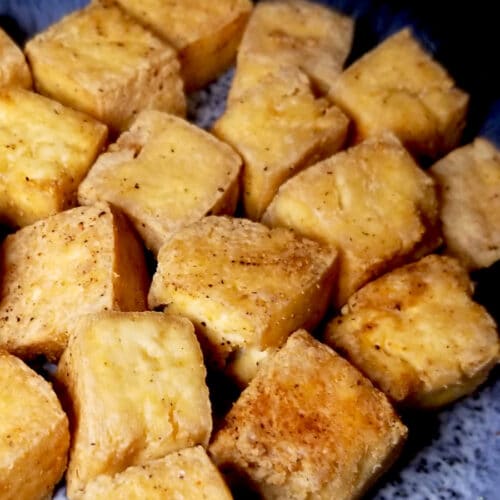 Perfect crispy tofu
This tofu is crispy on the outside with a little give on the inside. It's a perfect protein for soups, stir fries, and curries.
Ingredients
1

block

firm tofu

1

tablespoon

olive oil

plus more to coat air fryer basket

½

teaspoon

salt

more to taste

¼

teaspoon

black pepper

Additional seasonings as desired*
Instructions
Press the tofu. Drain the liquid from the tofu container, then dab the tofu dry. Wrap the block in a thick layer of paper towels or a thick dish towel. Top the tofu with something heavy, so that it puts even pressure on the whole block. I've used a cast iron pan, a pot with some cans in it, a heavy knife block. Get creative with it. Let the tofu press for at least 30 minutes.

Start by cutting the tofu block through the middle the long way, so that an upper and lower deck exist. Then cut both decks into a 4 x 4 of cubes. See picture.

In a small bowl toss the tofu cubes gently with the olive oil, salt, pepper, and any other seasonings you so choose.
To cook the tofu in the air fryer
Pre-heat the air fryer to 400°F. Lightly coat the air fryer basket with oil; just a thin coat will do. Lay the tofu out in a single layer. If your air fryer is too small to do that without crowding, cook the tofu in batches. Cook the tofu for 10-15 minutes, tossing every 5 minutes, until desired outer crunch level is reached.
To cook the tofu in the oven
Pre-heat the oven to 375°F. Lay tofu out in a single layer onto a parchment paper lined cookie sheet. Bake the tofu for 30-35 minutes, tossing it every 10 minutes until desired texture is reached.
Storage
Store the tofu in the fridge for 4-5 days or freeze on a cookie sheet, then transfer the cubes to an air tight container for 2-3 months, for best quality.
Notes
*This is the air fryer that I use. It's part air fryer, part instant pot. 
**Your seasoning can either match a specific dish you are making or be more universal. Aside from salt and pepper, try garlic or onion powder, cayenne, paprika, chili powder, or cumin.