Nothing quite says fall to me like a roasted squash. While I could eat a squash all by itself, I'd way rather puree it and incorporate it into a comforting fall risotto. This butternut squash risotto is creamy and rich, without the need for a bunch of dairy products. My lactose intolerance thanks me and I thank Arborio rice for being a real MVP.
What's the deal with Arborio rice?
Arborio rice is an Italian short to long-grain rice whose characteristic feature is its high content of a specific type of starch, called amylopectin. As the rice cooks and is stirred, the amylopectin is released from the rice into the broth, which thickens it over time. This ability to thicken the broth is what gives risotto its characteristic creamy texture. So, unlike the recommendation to rinse most rice before use, keep this rice away from water, lest you steal its starchy goodness. Learn more about the differences between rice varieties.
TL;DR: Arborio rice is the starchily opulent cousin of white rice.
Cooking tips
Take the time to caramelize the onions: If you want a nice depth of flavor it really is worth it to spend 15-20 minutes properly caramelizing the onions. While you don't have to do it, and I fully respect your decision to use your energy elsewhere, it will pay off in the end.
Save yourself some effort by not heating the stock: I know most recipes will tell you to keep the broth on the stove while you make risotto, but I say don't bother. I have used stove and microwave heated stock, room temperature stock, and even cold stock from the fridge and I have not experienced a significant difference in the final dish. And frankly, I'm not cleaning another pot if I don't have to.
Don't add all the broth at one time: So, interesting fact. It turns out that you don't have to toil over the stove, constantly adding in tiny amounts of stock, to make good risotto. That being said, you don't want to dump in all of the stock at the beginning of the cooking process. I recommend adding stock about a cup at a time, and stirring often, until it is absorbed.
Add ins
This risotto is good as is, however, don't shy away from adding your favorite protein or veggies. I've noted some of my favorite additions below.
Grilled, baked, or air fried chicken
Diced bacon


Toasted squash seeds (see below for instructions)
How to use the extra squash
The instructions in the recipe card call for you to roast an entire squash...because why would you only make half? However, a whole butternut squash is pretty large so chances are that you will have a fair amount of it left over. You also might have noticed that there are seeds inside of said squash and may be in the habit of tossing them in the trash or compost bin. I'm here to tell you that you should change your ways, in the name of flavor.
Pureed squash: This is a pretty versatile ingredient. I freeze the extra squash in 1 cup portions and defrost them as needed for various dishes. Use the pureed squash in macaroni and cheese, curry, as a filling for ravioli, or to make a dip.
Squash seeds: I spent too long wasting the delicious crunch that is butternut squash seeds. When prepared correctly, I'd liken the taste of seasoned baked seeds to perfectly salted popcorn. Simply rinse and dry the seeds, then toss them with a little olive oil, salt, pepper, and your choice of seasonings. Then pop them in the oven at 325 °F for about 25 minutes, shaking once during cooking. Use them to top your risotto or save them for a tasty movie night snack.
Get your squash baking, your onions caramelizing, and your rice absorbing, then thank yourself for taking the time to make a well balanced fall meal. You are worth the effort.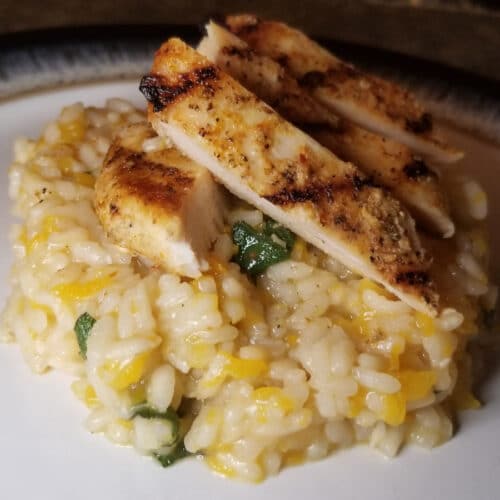 Butternut Squash Risotto
A creamy and rich risotto with nutty undertones and fresh sage.
Ingredients
Pureed squash
1

butternut squash

2

tablespoons

olive oil

salt and pepper
Risotto
2

tablespoons

butter

or your favorite alternative, divided

½

large

onion

sliced thinly into half rings

2

garlic cloves

minced

1

teaspoon

salt

divided

½

teaspoon

red pepper flakes

optional

1 ½

cups

arborio rice

¼

cup

sherry

3

cups

chicken stock

or vegetable stock to make it vegetarian

1

cup

pureed butternut squash

1

tablespoon

fresh sage

cut into thin ribbons
Instructions
Pureed squash
Pre-heat the oven to 375°F and line a large rimmed baking sheet with parchment paper.

Prepare the squash. Slice the squash in half horizontally, scoop out the seeds (set aside for later if desired) and pulp. Lay the squash halves, cut side up on the prepared baking sheet. Brush oil over the flesh of each squash half, then season liberally with salt and pepper.

Roast the squash for about 1 hour, until a fork presses easily through the flesh of the squash in multiple spots.

Allow the squash to cool enough for handling, then use a spoon to scoop the flesh into the bowl of a food processor. If you do not have a food processor you can use a standard or stick blender, a potato masher, or a fork. By your chosen means, process the squash until it is smooth and consistent all the way through. Or, if you prefer a thicker consistency for some mouthfeel, stop just short of complete smoothness.
Risotto
In a large, shallow pan melt 1 tablespoon of butter over low heat. Add the onions and a ½ teaspoon of salt to the pan. Continue to cook the onions over low heat, stirring frequently, until they are browned, getting sticky, and smell amazing, about 20 minutes.

Add in the remaining tablespoon of butter and the red pepper flakes, if using. When the butter is melted, pour in the rice, then stir to coat the grains well. Turn the heat up to medium and stir risotto for another 2 minutes. Pour the sherry into the pan and stir until the sherry is mostly absorbed.

Pour or ladle in the first cup of broth and increase the heat slightly, until a simmer is maintained. Meanwhile, continue to stir the rice until the broth is mostly absorbed. Repeat this step with the remaining broth.

When the broth is mostly absorbed, stir in ¾ cup of the pureed squash. Continue to cook the rice, stirring frequently, until the rice is tender but with a little bite. Add in as much of the remaining pureed squash as necessary to reach your preferred consistency.

Taste the risotto and adjust the salt to taste. Sprinkle fresh sage over the top of the risotto before serving.