Tacos are one of my all time favorite foods. I especially love a good street taco, covered in crisp onion, and an arguably excessive amount of cilantro. In fact, I probably make shredded chicken tacos at least every other week. At that rate of consumption, it is silly to go out and buy piles of taco seasoning. So I figured, why not mix up my own southwest seasoning with the spices I already had on hand.
This all purpose homemade southwest seasoning is great for tacos of nearly all varieties. Chicken, beef, fish, tofu, beans, sweet potato - they are all excellent dressed up with this zesty blend. This seasoning would also work great for a kicked-up seasoned sour cream, mixed in with some nacho cheese, or to season a pot of slow-cooked black beans.
The bottom line is that there is no reason that you have to buy pre-mixed southwest seasoning when it is this simple to prepare ahead of time. Wait until a day when you are feeling energetic, maybe a sunny day when the vitamin D is reaching down to your soul. You know the kind of day I mean. Depending on the frequency with which you use southwest seasoning, go ahead and double or triple this recipe. It scales up well, so look, I will not judge you if you want to make a gallon of this pure taco joy all at once. Live your dreams, taco-based or otherwise.
To get a start on your taco aspirations, try my instant pot chicken tacos. While you are at it, whip up a recipe of homemade corn tortillas - or pull them out of your freezer, if you've been listening to my advice. Toss it all together, add your favorite toppings - cilantro is for winners - then sit down and enjoy your hard work. You made this dream happen, so keep up your momentum. You can do it and you are worth it, in case no one told you recently.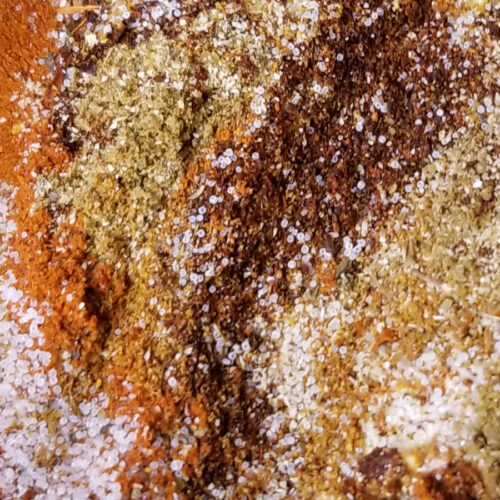 All-Purpose Homemade Taco Seasoning
This taco seasoning is great for tacos of all varieties. Make your continuous taco-based dreams come true without the hassle of going to the store to buy another spice mix.
Ingredients
1

tablespoon

chili powder

1 ½

teaspoon

cumin

1

teaspoon

paprika

hot Hungarian, if you have it

¼-½

teaspoon

crushed red pepper flakes

depending on spice tolerance

½

teaspoon

ground cayenne

optional depending on spice tolerance

½

teaspoon

dried oregano

1

teaspoon

onion powder

1

teaspoon

garlic powder

½

teaspoon

salt

¼

teaspoon

ground black pepper
Instructions
Find your preferred taco seasoning vessel and label it with the contents and date.

Measure all ingredients into said vessel.

Shake that baby up until well combined.

Use about 2 tablespoons of seasoning per pound of meat. Use your discretion to adjust that as necessary for your specific dish.

Use up your taco seasoning within a year of the date if stored in the pantry or two years if stored in the freezer.