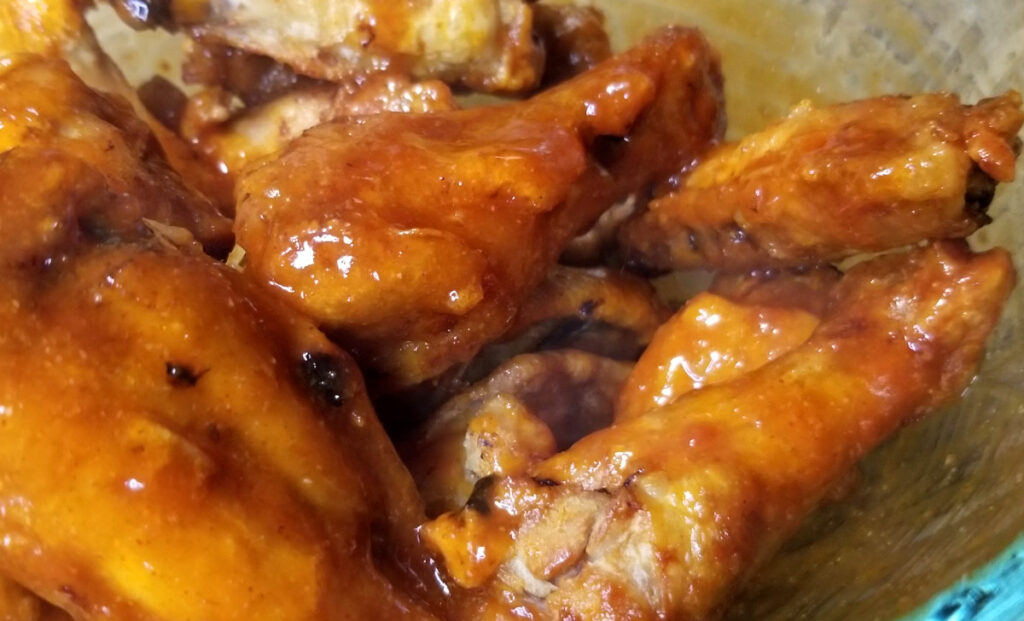 I am still on a Friday night chicken wing kick. They are the perfect food for a game night in, with my favorite person (read: Elias). I previously shared my recipe for a gosh darn perfect buffalo wing sauce. That being said, no matter how good they are, we can't always have standard buffalo wings. This hot honey bourbon wing sauce provides an excellent alternative. It's sweet, spicy, and a little tangy. Its contrast of flavors keeps you continuously excited for the next bite.
Now that we've gotten through the description of the main event, have I mentioned my love of air fryer wings? Seriously, even a few drinks in, they are practically fool proof. They're crispy on the outside, moist on the inside, and best of all there are never any bites of questionable texture. I honestly can't say that I've ever had consistently well made wings, until I started making them at home. And this isn't me bragging about my cooking skills - it's all the machine. Yay science.
I call this a wing sauce but you don't have to eat it with wings. Deliver this hot honey bourbon sauce to your mouth by your preferred means, it's going to be great regardless. Air fry or bake tofu or cauliflower until browned and crispy, then toss it with sauce. Alternatively, use it as a marinade for a hearty fish, like salmon.
This recipe makes a good amount of sauce. I estimate that this is enough for about three dozen wings, though I have yet to make that many at one time. I freeze the extra sauce and use it for about three weeks worth of wings. It freezes well and maintains its quality for at least a couple months. Select your freezing vessel carefully though, as it does not freeze solidly, owing to the alcohol content.
Now, get that wing sauce together, toss it on your chosen sauce delivery device, then brag about your proficiency for snacks.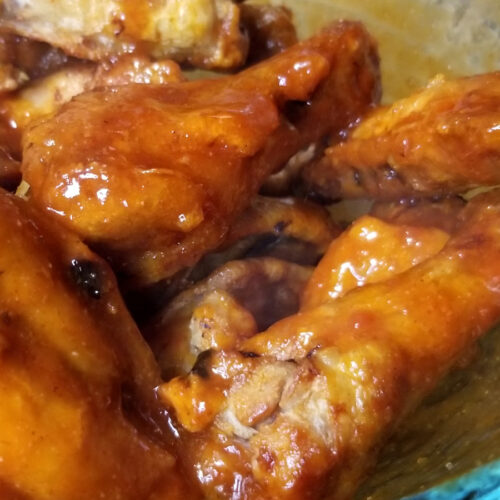 Hot Honey Bourbon Wing Sauce
A sweet bourbon chicken wing sauce, with a bit of a kick.
Ingredients
⅓

cup

bourbon

⅓

cup

Frank's hot sauce

3

tblsp

butter

2

teaspoon

honey

2

tsp

Worcestershire sauce

4

tbsp

brown sugar

6

tablespoon

ketchup

1

tablespoon

white vinegar

1

teaspoon

cayenne pepper

1 ½

teaspoon

garlic powder

½

teaspoon

onion powder
Instructions
Melt butter in a small saucepan over medium-low heat.

Add the rest of the ingredients to the saucepan and stir to combine.

Bring sauce to a light simmer, then stir and reduce the heat back to medium-low.

Cook the sauce, stirring occasionally, until the ingredients are well combined, 3-5 minutes.

Toss sauce with your preferred sauce delivery system.

Freeze extra sauce for later use. Because of the bourbon, it does not freeze solid, so be sure to keep it in a well sealed container. I usually have enough sauce to make wings three separate times.