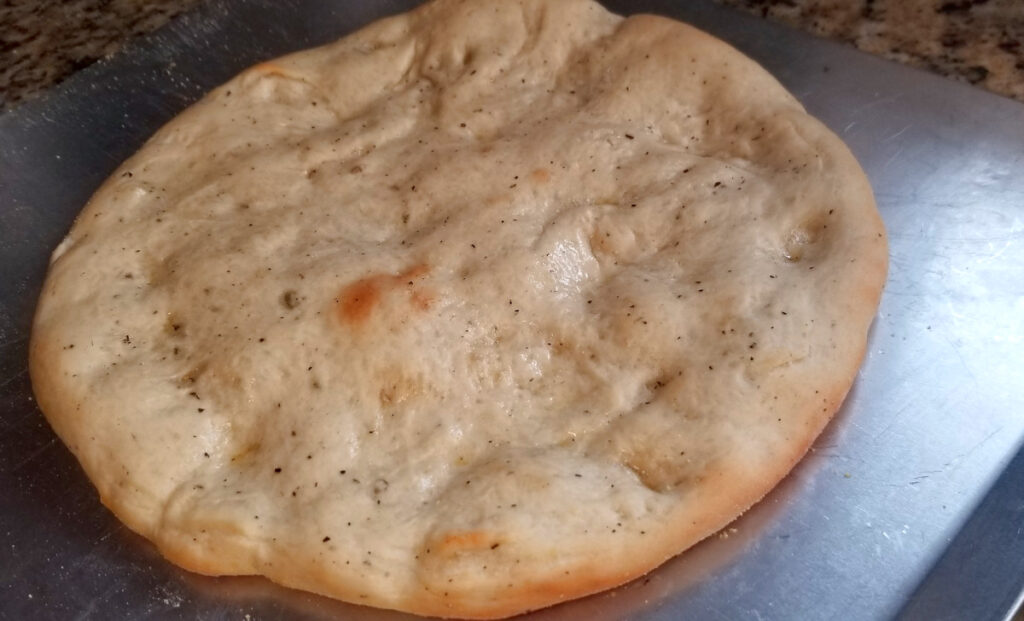 Pizza is a staple in our house. Ever since I have known Elias - it's been quite a while - pizza has consistently dominated his diet. We used to spend a good amount of money buying pre-made crusts or ordering pizza. Having now made this homemade garlic and herb pizza dough for years, I really can't see myself going back to those days. This pizza dough is super simple, adaptable, and a great deal more affordable than the alternatives. Besides, it is more flavorful than a traditional pre-made crust.
This pizza dough is adapted from my mother-in-law's basic dough recipe, which was bestowed upon me years ago. It is easy, tasty, and fully worth the somewhat lengthy rise time. Make it your own by swapping out or adding herbs and spices. It is a truly versatile recipe that allows you to play around with your flavors.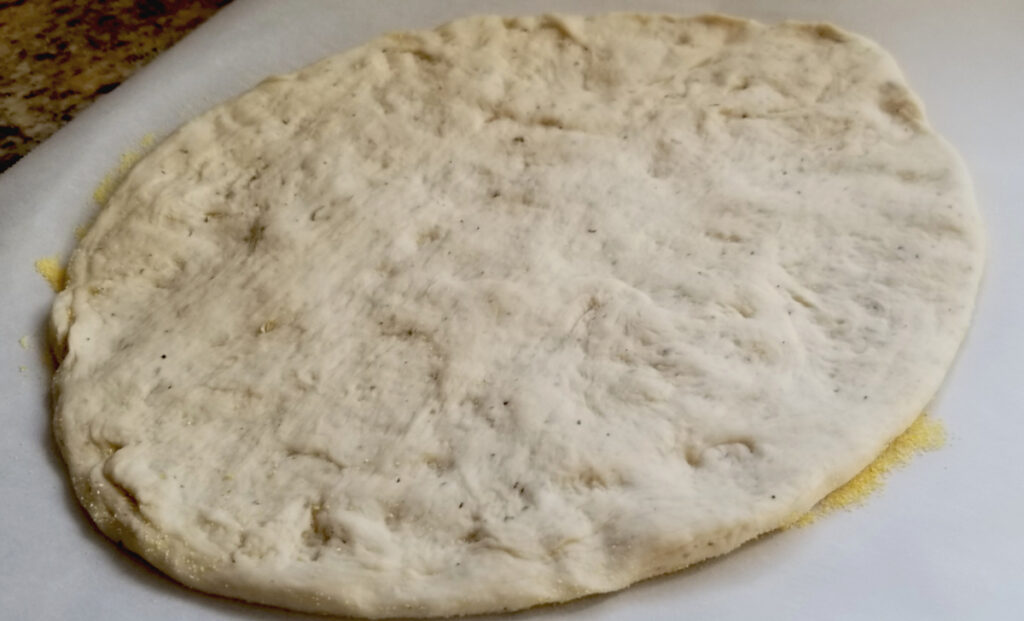 For an even more dramatic burst of flavor, experiment with seasoned butters or oils. We like to make a garlic herb butter, to really bring the point home. I mean, can you ever really have too much garlic or too many herbs on a pizza? Apply your fat of choice, by brushing it on, just after the par-baking step of this recipe.
Pair your pizza with a side of buffalo wings, for a tasty night in. Or lighten up your meal with a side of strawberry balsamic salad. Alternatively, make two kinds of pizza and eat them both by yourself - YOLO (do the youths still say that?). Your food future is in your hands, choose wisely...or impulsively, I won't judge.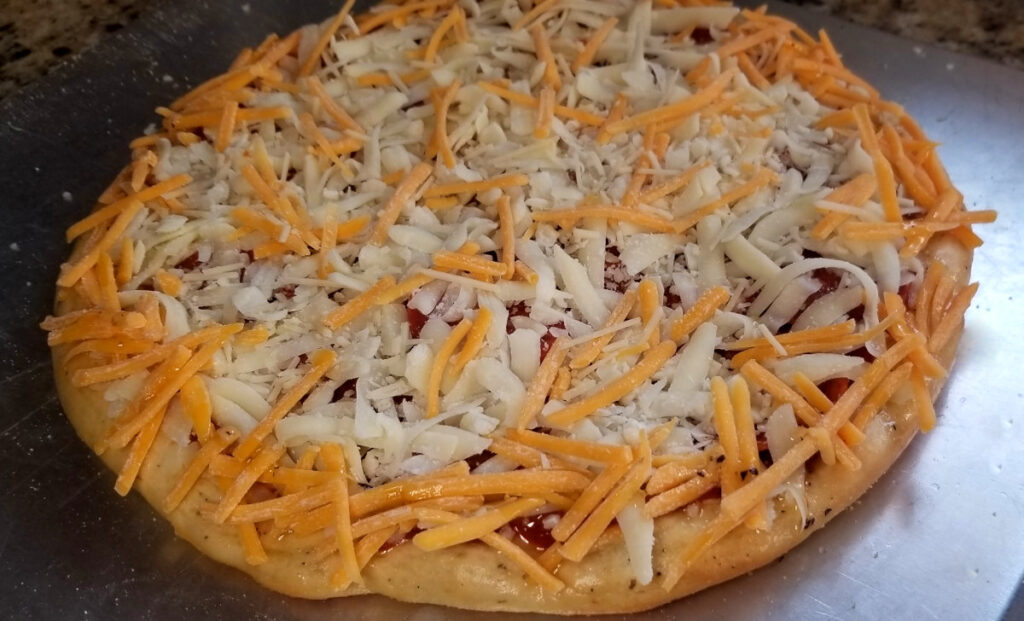 Now knead together your garlic and herb pizza dough, set it to rise, and use the time to bask in your amazing meal planning skills.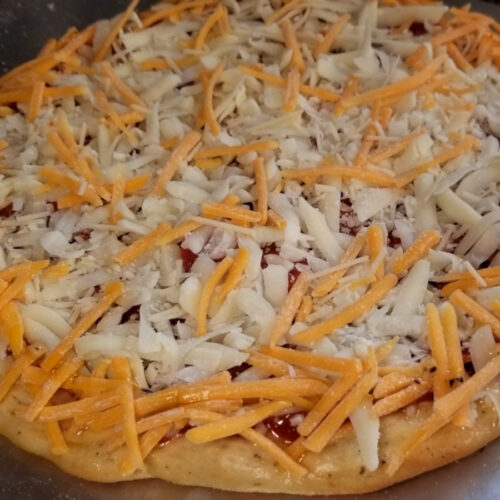 Garlic and Herb Pizza Dough
This is a easy but flavorful pizza dough crust with herbs and garlic.
Ingredients
1

cup

water

warm, between 110-115°F

¼

teaspoon

white sugar

2 ¼

teaspoon

active dry yeast

1 packet

2 ½-3

cups

all-purpose flour

divided

2

tablespoon

olive oil

1

tsp

garlic powder

½

teaspoon

dried basil

½

teaspoon

dried oregano

¼

teaspoon

fennel seed

1 ½

teaspoon

salt
Instructions
Add sugar to the bowl of your mixer or a large bowl if not using a mixer.

Pour the warm water into the bowl, then sprinkle with the yeast.

Mix in 1 ½ cups of flour until it starts to combine.

Add oil, salt, garlic, herbs, and 1 cup of flour to the bowl.

Mix on low until well combined, then touch the dough to check for wetness.

Slowly add up to another ½ cup of flour, until the dough is no longer sticky to the touch.

Turn the mixer up or knead dough by hand for ~ 5 minutes, until it feels smooth and elastic.

Place the dough ball in a lightly oiled large bowl and cover with a towel.

Allow dough to rise for 1 hour.

Punch down dough, then re-cover, and let rise for an additional 30 minutes.

Pre-heat the oven to 450°F. If using a pizza stone, allow the oven to heat for about 30 minutes prior to cooking the pizza dough.

If you want to freeze the dough for later, freeze it right after the punch down step. To defrost the dough, move it to the refrigerator the day before, then let it rise on the counter for about 1 hour before use.

If you are using a pizza stone, cover a flat cookie sheet (or pizza peel) with parchment paper and sprinkle it with cornmeal. If you are using a cookie sheet, simply sprinkle cornmeal directly on the sheet.

Split the dough in half and stretch each into a crust, placing them atop your cornmeal.

For each pizza transfer the dough to the oven for 7 minutes, to par-bake the crust.

If you want to add seasoned butter to your crust, brush it on after par-baking.

Add your desired toppings, then continue cooking for ~10 minutes, until the cheese is browned to your taste.

Let the pizza sit for 5 minutes before slicing it and diving in.