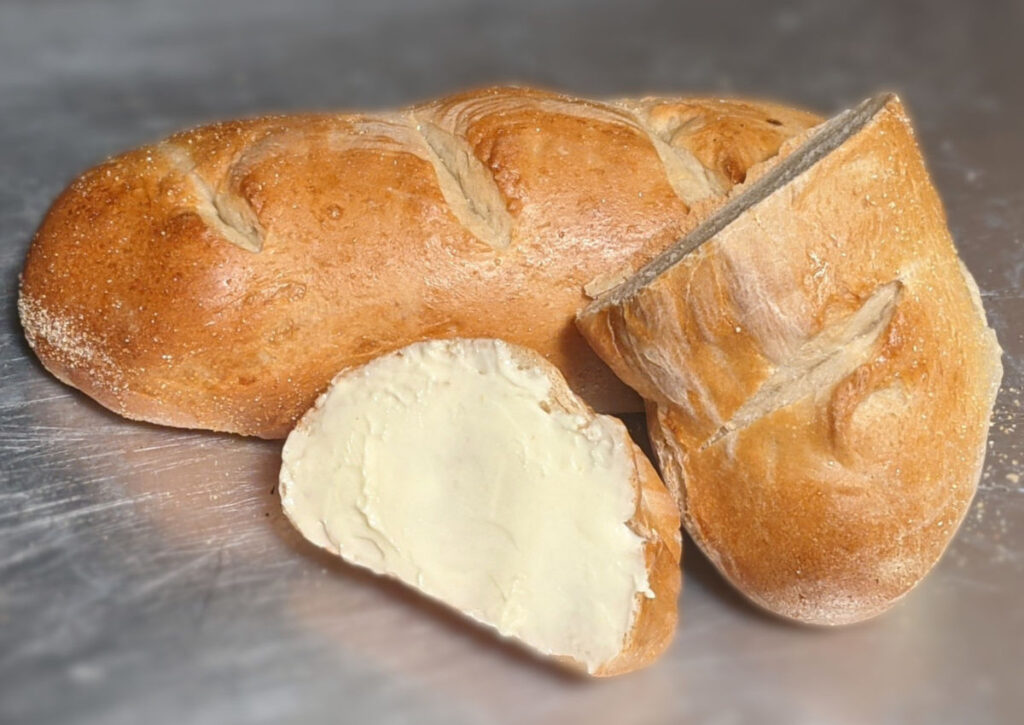 There's nothing quite like a freshly baked loaf of bread. Is there a "baking bread" scented candle? I'd like 1000 please. In lieu of that, I guess I'll just have to put in the effort of actually making bread. Luckily, this French bread recipe, while a little time consuming, requires very little effort.
Why Make Homemade French Bread?
French bread is my go to for just about every course. Making it at home, is cheaper, fresher, and it's effectively free potpourri. Use it for cinnamon-y French toast, rustic grilled cheese, buttery garlic bread and if you somehow still have a loaf leftover, throw that baby in some bread pudding. And look, if you're feeling uninspired by the time your timer beeps, because life happens and Netflix isn't going to watch itself, no worries, these loaves freeze well.
Tips For Making French Bread
Don't be lazy about the kneading. I get it, if you don't have a mixer it is a lot of work to knead dough. However, if you want a great textured dough the best thing that you can do is to help the dough develop its gluten. Learn more about gluten and what happens when you knead dough.
Add a wash to your bread prior to baking. This contributes to both the color and texture of your bread. In this recipe, I recommend a simple egg wash, which gives the dough a little color and some shine. Want to try something different? No problem, here is a comparison of different bread wash options.
Summary Of Steps
This recipe has three rises, so it's a great opportunity to tell people that you're baking and then spend the time watching a true crime documentary, drinking, throwing Cheeto puffs to your dog, whatever, I don't claim to know your life. So, first we get all of the ingredients mixed up and well-kneaded to ensure the presence of many air pockets in the dough. Then the dough rises for a whole hour and a half. This time is yours.
Now go ahead and punch down that dough. Hey wait, buddy, contain your rage, it's not that kind of punching. Re-cover that dough and then enjoy another 30 minutes of personal time.
Alright, now you're going to heat your oven to 375℉. That's a fair amount of dough, right? Yeah, don't worry, this makes two loaves. Split that sucker down the middle and gently roll each half between your hands until they are about 10 inches long and tapered at the ends. Then you'll want to put your bread babies on a cornmeal and parchment paper covered pizza paddle or inverted baking sheet. This is your final 30 minute rise.
To get a nice golden crust, you're going to mix up an egg wash and coat the loaves liberally, making sure to coat the tops and all sides. Then, take a sharp knife and...hey, hey, what did I say about that rage? Relax, you're just going to make slits every 2 inches or so. Now, all you have to do is get your dough logs into the oven for about 25 minutes. Your house is about to smell better than it has in a while. Allow loaves to cool entirely before storing; patience is a virtue, after all. Store the bread at room temperature for 2 days or freeze the extras for later. Remove bread from the freezer about an hour before use.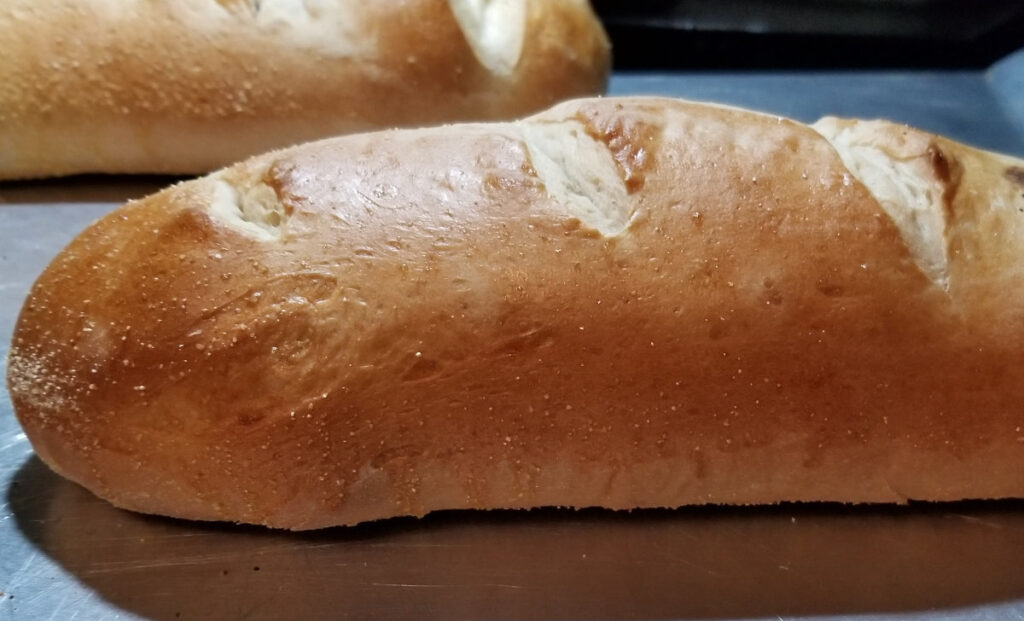 Variations
Rosemary Asiago: Add ½ teaspoon of crushed dried rosemary and ½ cup of shredded asiago cheese to the dough before kneading. Decrease the salt in the recipe to just 1 ½ teaspoon because asiago contributes salt to the bread.
Garlic Herb: Add ½ teaspoon each of: dried basil, oregano, and rosemary and 1 teaspoon of garlic powder to the dough before kneading.
Toppings: After applying your bread wash sprinkle it with your choice of toppings. Some options include: sesame seeds, poppy seeds, caraway seeds, coarse salt, or even cheese.
Dippable Meals
No bread recipe is complete without something to dip it in. Enjoy a couple of my suggestions, trust me, I'm a bread dipping expert.
Now get your bread dough mixing and thank yourself for making your home smell like a bakery.
Crusty French Bread
Perfectly crusty french bread. Slather it with butter, dip it in a stew, drip the crumbs all over everything you own!
Equipment
Pizza stone or cookie sheet
Ingredients
1

packet

active dry yeast

2 ¼ teaspoons

2

tablespoon

sugar

1

cup

warm water

110-115° F

2

tablespoon

olive oil

2

teaspoon

salt

3½-3¾

cup

all-purpose flour

divided

cornmeal
Egg wash
1

egg white

1

teaspoon

water

cold
Instructions
Place sugar, water, and yeast in the bowl of a mixer and mix lightly. Then, add the oil, salt, and 2½ cups of flour to the bowl. Mix dough until mostly combined.

Add 1 ¼ cups of flour and allow it to mix in. Then, continue to add flour ( up to ¼ cup) just until the dough stops sticking to the bottom of the bowl. Increase the speed of the mixer to 2 and knead dough for about 8 minutes.

Place dough ball into a lightly oiled bowl, coating each side. Cover the bowl lightly and allow the dough to rise for 1 ½ hours, or until it has doubled in size.

Punch down dough, then re-cover and let it rise for an additional ½ hour.

Place a pizza stone or an inverted baking sheet in the oven, then preheat the oven to 375°F. If you have a pizza paddle, sprinkle it with cornmeal. If you don't, line a rimless baking sheet with parchment paper, then sprinkle it with cornmeal.

Divide the dough in two and gently roll each between your hands until they're approximately 10 inches long and tapered at the ends. Place the loaves on either the pizza paddle or baking sheet. Then, allow the dough to rise for ½ hour, uncovered.

Prepare the egg wash by beating together the water and egg white. Brush the tops and sides of the loaves with the egg wash.

Slide loaves onto the heated pizza stone or baking sheet (without the parchment paper) and cook for 25 minutes, until loaves are golden brown.

If you are not eating the bread immediately, allow the loaves to cool completely before storing. Use bread within 2-3 days or freeze in an airtight container.
Nutrition
Serving:
0.5
loaves
Calories:
508
kcal
Carbohydrates:
91
g
Protein:
12
g
Fat:
9
g
Saturated Fat:
1
g
Polyunsaturated Fat:
1
g
Monounsaturated Fat:
5
g
Sodium:
1173
mg
Potassium:
10
mg
Fiber:
4
g
Sugar:
6
g
Calcium:
1
mg