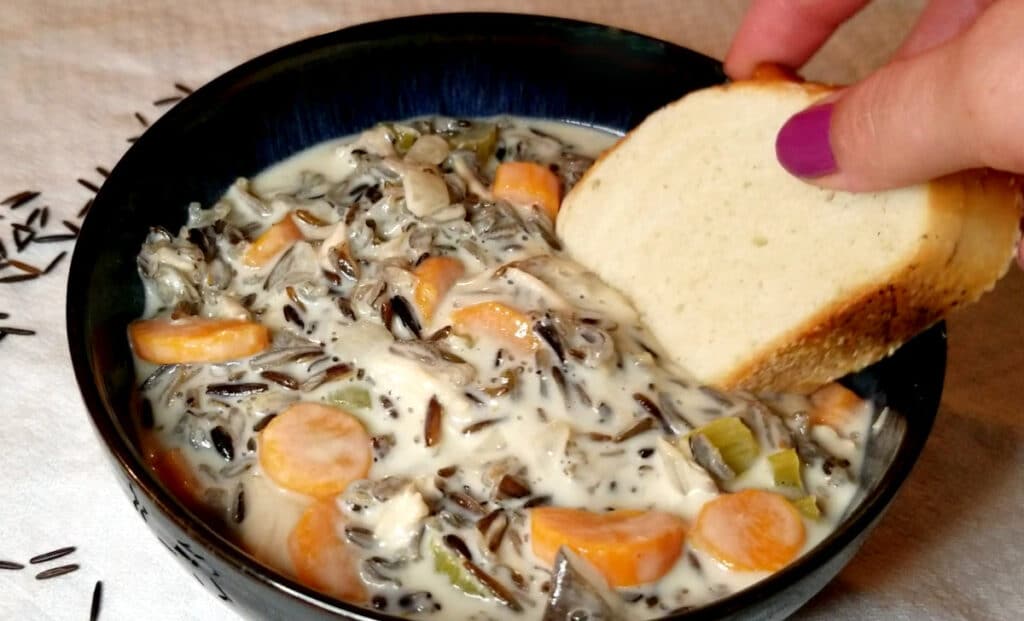 Minnesota creamy chicken wild rice soup is one of the few soups that Elias enjoys. It's pretty hard to go wrong with a hearty grain, like wild rice, and a creamy broth. This soup is comforting, satisfying, and filling. Oftentimes, I find myself hungry just a couple hours after eating soup but this one really keeps me satiated for a long time. Working with wild rice and being a native Minnesotan means that I may be slightly biased, but this is one of the best soups out there. So take that tomato soup! Ok, sorry tomato soup, I didn't mean it, I love you too.
I might be biased, but seriously, look at the beauty that is wild rice. The light bounces off the grains in shades of yellow, to black to brown. Even a picture of the grain practically projects its mouthfeel. Besides, if we get past its visual appeal, wild rice is also a super nutritious grain, with more protein and fiber than either white or brown rice. Looking for some other wild rice recipes? Try Thai style wild rice or eat in on the side with some instant pot curry chicken. Even more wild rice recipes.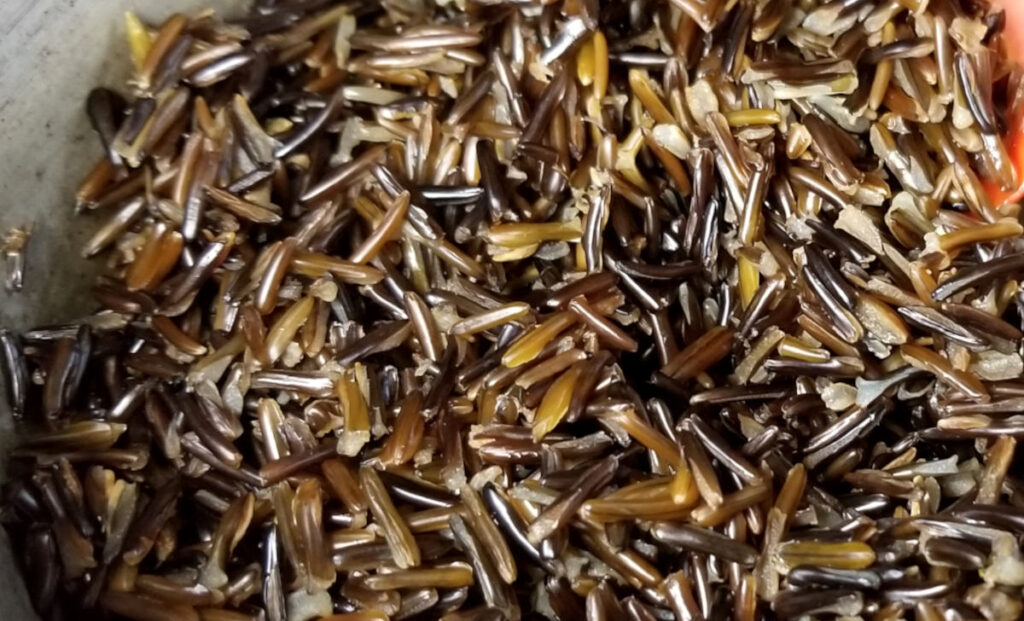 Tips for Making Wild Rice
Rinse the wild rice before cooking: This removes any dust or debris. Just 10-15 seconds in a mesh strainer, under cold water, is enough to do the trick. This is also something that you should do for white or brown rice.
Salt your water: As with pasta, adding salt to the cooking water increases the overall flavor of the dish. However, I find that less salt is needed than for pasta. Add about 1 teaspoon of salt when the wild rice starts to boil.
Use recommended cooking time as an estimate: There will likely be slight variation in the cook time of different packs of wild rice due to variance in grain size. Start with 45 minutes of cook time, then test the firmness of the wild rice. If it is still too firm, cook for 5-10 more minutes, checking the wild rice again after 5 minutes. For this recipe you can remove the wild rice when it still has a little bit of bite since it will get cooked a little longer when added to the soup.
FAQs
Is wild rice actually rice?
Great question! In truth wild rice is not rice. In fact, wild rice is falls in the genus Zizania whereas white and brown rice are in the genus Oryza. However they are somewhat closely related as both are in the family Poaceae. The name wild rice comes from the fact that the grains look very similar to rice, however the grain has gone by a multitude of different names over time.
Can I use pre-cooked chicken in this soup?
Yes, rotisserie or roasted chicken, as well as cooked and diced chicken breast all work well for this soup. Simply skip the chicken cooking step in the recipe and add the cooked chicken to the pot with the cream. I often use previously cooked, shredded chicken when I am short on time or energy.
Is wild rice soup good with mushrooms?
Absolutely, if desired, add chopped mushrooms to the pot with the carrots, celery, and onions. I have had success with white button mushrooms, creminis, and even foraged maitake (hen of the woods) mushrooms. Learn more about maitake mushrooms.
Can Minnesota wild rice soup be frozen?
This soup freezes and re-heats surprisingly well. It is well worth it to make a big batch and freeze a bunch as leftovers.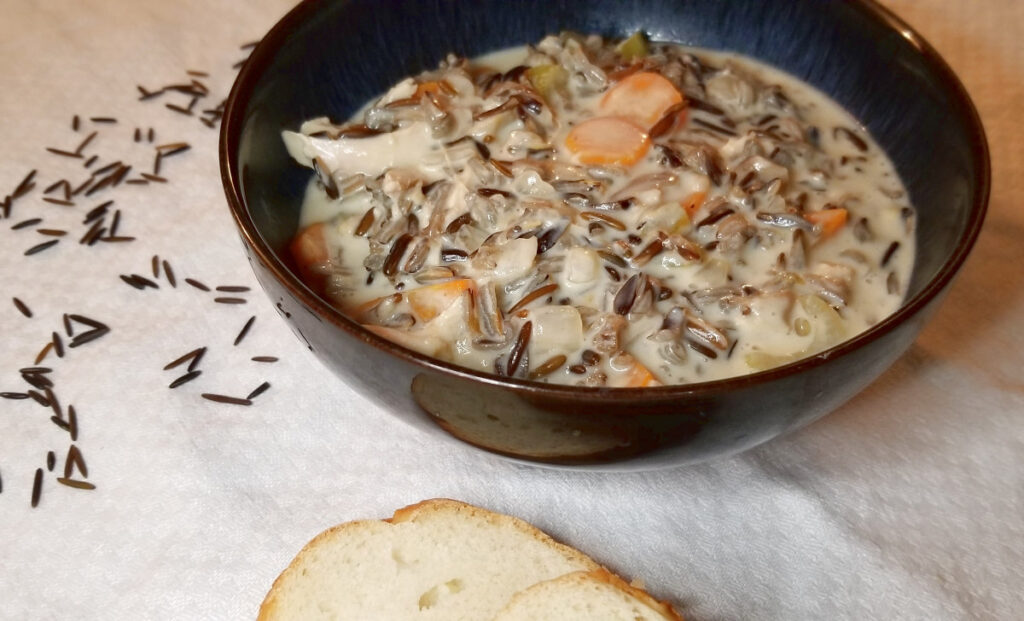 This creamy chicken wild rice soup is hearty enough to serve on its own. However, it is always great with a nice hunk of homemade French bread to dip. Alternatively, lighten up your dinner with a strawberry balsamic salad, on the side. Making decisions in life isn't always easy so I present this one as a simple win. Whatever you choose is going to be the right choice. So, heat yourself a bowl of comforting soup, pair it with your choice of side (or lack thereof), then remind yourself that you are capable of making excellent decisions.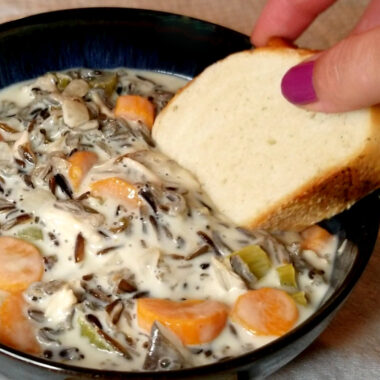 Minnesota Creamy Chicken Wild Rice Soup
In this chicken wild rice soup, the slight bite of the wild rice melds with the creaminess of the broth, for an infinitely satisfying experience.
Ingredients
For the wild rice *
¾

cup

wild rice

dry

3

cups

water

1

teaspoon

salt
For the soup
1

tablespoon

vegetable oil

8-10

oz

chicken breasts, 1-2 breasts*

cut into bite size pieces

2

tablespoon

butter

1

onion

diced

2

large carrots

diced

3

stalks

celery

diced

3

cloves

garlic

minced

1

teaspoon

salt

plus more to taste

½

teaspoon

black pepper

plus more to taste

2

tablespoon

all-purpose flour

3

cups

chicken stock

1

cup

heavy whipping cream
Instructions
Rinse the wild rice in cool water, then add it to a medium size pot with water.

Bring the wild rice to a boil, then add salt and reduce the heat to low.

Cook wild rice at a low simmer, partially covered, for 45 minutes. Try a grain or two to determine whether the rice is still too crunchy. If so, cook for an additional 5-10 minutes. It is best to leave the wild rice with a bit bite because it will cook a little longer in the soup. Drain any extra water from the wild rice.

While the wild rice is cooking, heat oil in a large pot over medium heat. If you plan to use pre-cooked chicken skip the next step.

Add the chicken to the pot in an even layer. If your pot is not large enough to fit all of the chicken with some space between pieces, cook half of it and repeat process with the other half. If your pot is too small the chicken will steam instead of getting lightly browned. Cook the chicken on each side for 1-2 minutes, then remove chicken from the pot and set aside.

Reduce heat to medium low and melt butter in the pot.

Mix in onion, carrots, and celery and cook until softened, 5-7 minutes. Add garlic, salt, and pepper to the pot and cook for an additional minute. Stir flour into the vegetables, making sure to coat everything well. Cook for about 1 minute.

While stirring the vegetables, slowly pour in the chicken stock. Bring the soup to a boil, stir it, then reduce heat to maintain a gentle simmer. Simmer soup for 15 minutes, stirring occasionally.

Add the cream, chicken, and wild rice to the pot. Simmer the soup for 5 more minutes. Taste the soup and adjust the salt and pepper to taste.

Store leftovers in the fridge for 4-5 days or in the freezer for up to 3 months.
Notes
*You can use pre-cooked wild rice to save time and energy for this recipe. You want about 2 ¼ cups of cooked wild rice. 
*You can also use pre-cooked chicken for this recipe. Just add your chicken with the cream and wild rice, about 5 minutes before the soup is done. 
Nutrition
Serving:
1
bowl
Calories:
363
kcal
Carbohydrates:
37
g
Protein:
23
g
Fat:
14
g
Saturated Fat:
6
g
Polyunsaturated Fat:
3
g
Monounsaturated Fat:
2
g
Cholesterol:
70
mg
Sodium:
1994
mg
Potassium:
389
mg
Fiber:
4
g
Sugar:
5
g
Vitamin A:
169
IU
Vitamin C:
9
mg
Calcium:
19
mg
Iron:
7
mg