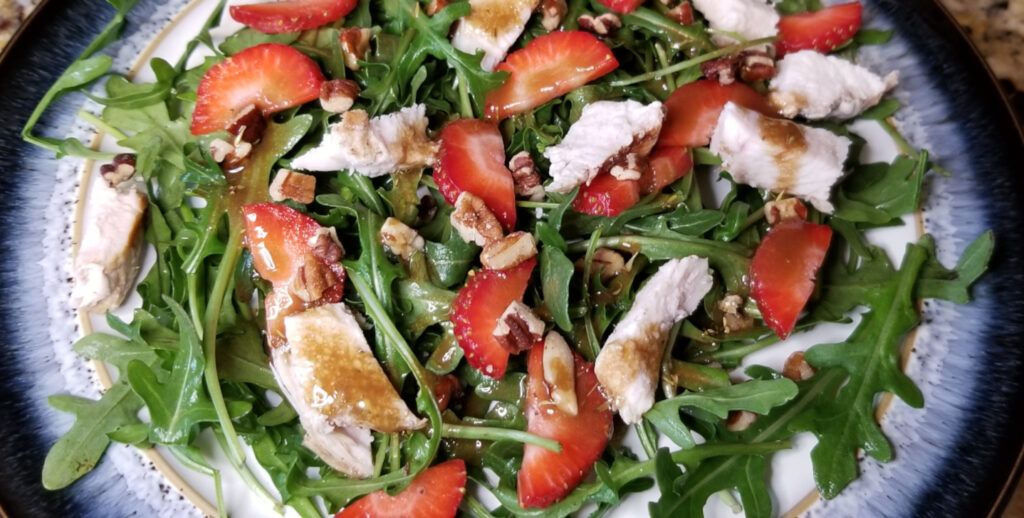 Some days, especially in the spring and summer, I start to crave a big plate of salad. My body, having emerged from months of cream filled winter decadence, is ready for something nutrient dense and fresh. This balsamic chicken strawberry salad fits the bill perfectly. It has an excellent balance of sweet and acid, nutrient dense greens, and plenty of protein.
While this salad is hearty enough to serve as a dinner salad, it also lends itself well as a side dish. Maybe you are still half in your decadence stage and you want to serve it alongside a cream sauce or wild rice soup. That's cool too; life is about balance, so do you.
This is a simple salad recipe and so it can be altered in a number of ways to fit your needs. Feel free to experiment and change up ingredients as you see fit. The following are my recommended substitutions but they are by no means the only choices. Follow your heart...or your available ingredients, you know, whatever works.
Substitutions
Chicken:
This recipe calls for grilled chicken. That's because I happen to love grilled chicken and it's a nice way to incorporate a little balsamic flavor into the protein. If you still want chicken but don't want to put in the extra effort, go ahead and use leftover chicken. When you make a batch of roasted chicken, freeze some shredded chicken for this recipe.
I have titled this as a strawberry chicken salad but it can easily be made meatless. To make this salad vegetarian, substitute the chicken for baked tofu. Use the chicken marinade for the tofu, after pressing it to remove as much moisture as possible. Marinate the tofu for 2 hours instead of just 1, then bake until crispy
Arugula:
While I think that arugula is the best choice of lettuce for this dish, it is not the only option. Spinach makes a good substitute for arugula in this recipe. Or, try mixing the arugula 50/50 with spinach. You could substitute other lettuces in a pinch, but this salad works best with heartier greens.
Pecans:
If you don't have pecans on hand, you can substitute them for walnuts, slivered almonds, or even toasted pine nuts. If you prefer a slightly sweeter salad, candy your pecans before adding them to the salad.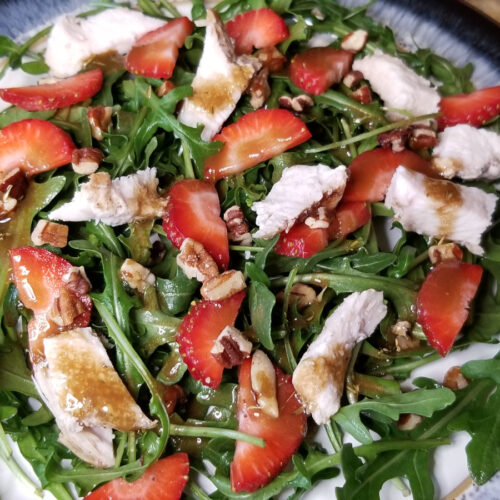 Balsamic Chicken Strawberry Salad
A refreshing salad with a good balance of sweet and acid. Perfect for a healthy dinner meal.
Ingredients
For the Chicken
2

chicken breasts

boneless, skinless

1

tbsp

Olive oil

plus more to coat grill

½

teaspoon

balsamic vinegar

½

teaspoon

dried thyme

1

teaspoon

salt

½

teaspoon

black pepper
Balsamic Dressing
3

tablespoon

olive oil

2

tbsp

balsamic vinegar

1

tsp

dijon mustard

¼

teaspoon

sugar

¼

teaspoon

dried thyme

salt and pepper to taste
Salad
5

oz

arugula

(one large container)

5-6

strawberries

sliced

⅓

cup

chopped pecans

parmesan

for topping, optional
Instructions
Mix together all chicken marinade ingredients in your preferred marinating vessel

Use the marinade to coat the chicken well, then seal your vessel and let sit in the fridge for 1 hour.

Pre-heat grill to medium-low.

Make sure grill grates are clean, then coat lightly with oil.

Add chicken to the grill and cook for 6-7 minutes per side, then remove from grill. Check that the internal temperature of the chicken reaches 165°F.

Let the chicken sit for 5-10 minutes before slicing it into strips (or your preferred bite size pieces).

While the chicken cooks, whisk together the salad dressing ingredients. Or shake if you have a dressing shaker.

Wash and dry the arugula.

Prepare each plate of salad separately, rather than mixing ingredients ahead of time in order to maintain lettuce and strawberry quality.

Layer the salad ingredients. Start with the arugula. Then, top with sliced strawberries, grilled chicken, and sprinkle with pecans.

Whisk or shake the dressing just prior to dressing the salads.

If desired, finish the salads with some parmesan.