When the stresses of life become heavy, sometimes what you need is your favorite comfort food. For me, this is undoubtedly tacos. Realistically, I will also take tacos when I am happy, giddy, insert other positive emotion. What I am saying here is that tacos are the best. I especially love street tacos. To make a really good street taco, the first step is a solid corn tortilla.
You can get a decent corn tortilla from the store but there is something special about homemade tortillas. Besides, they are fun to make, even if, like me, you are incapable of making anything into a perfect circle. See cooking tortillas below as evidence. But imperfections breed art, right? "Look at those fanned edges, the artist really had a lot to say about accepting the imperfections of life".
A Brief Lesson
Now, if I am going to talk about a simple recipe like corn tortillas, I can not miss the opportunity for a little learning. The base of this, and most corn tortilla recipes, is Masa Harina. To make Masa Harina, specially made corn dough is dehydrated and ground. This is not the same as a standard corn flour or corn meal.
Here is where it gets interesting. That original corn dough is produced through a process called nixtamalization. This process relies on the combination of an alkaline (basic, i.e. pH above 7) substance, generally lime mixed with water, and corn. The alkalinity makes the hulls easy to remove, which is important for efficient processing. It also reacts with the hemicellulose in the corn to make niacin bioavailable (thanks lime!). In addition, the calcium from the lime molecules aids in the creation of bonds between corn molecules. Ultimately, we care about this extra bonding because it allows the dough to stick together.
After that riveting science lesson, you are undoubtedly fired up to make tortillas - or is that just me? Use that momentum. Spend some time now and you'll always be prepared for tacos. These corn tortillas freeze and re-heat very well, so if you feel energized, make a double or triple batch!
Fill your freezer with tortillas and then congratulate yourself for your superb taco-based forethought.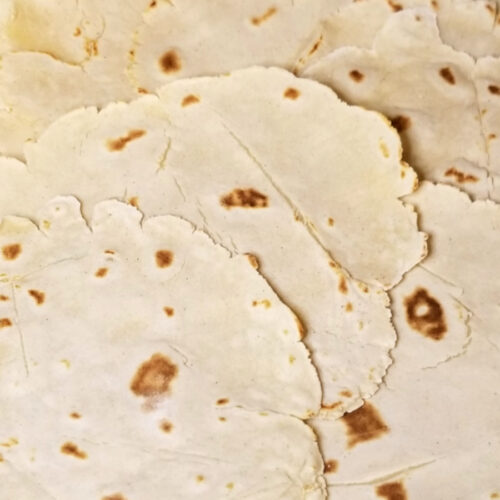 Perfectly Manageable Make-Ahead Corn Tortillas
A simple way to prepare for your taco dreams of tomorrow
Ingredients
1½

cups

Masa Harina

½

tsp

salt

2½

tablespoon

vegetable oil

¾-1

cup

hot water

boiled just before
Instructions
Mix together the Masa Harina and salt in a medium size bowl.

Meanwhile, heat water until just boiling. I like to use a tea kettle for convenience.

Combine the oil with the flour mix.

Slowly start to add the hot water, using your hands to gently mix the dough.

Add enough water for the dough to stick together into a ball. You do not want a wet dough but you should be able to knead it without it falling apart.

Lightly flour your working area and hand knead dough for about 2 minutes.

Wrap the dough and leave it on the counter for 1 hour.

Put a heavy bottom pan over medium high heat, with no oil, for 3-5 minutes while you roll out your first tortilla.

If you have a tortilla press, continue with that to form the tortillas. You want each tortilla to use roughly 1 oz of dough. If not, follow along below for alternate instructions.

Place a piece of parchment down on your work area and sprinkle very lightly with flour

Separate about 1 oz of dough and roll lightly into a ball.

Place your ball on the parchment paper and coat both sides lightly in the flour.

Cover the ball with another piece of parchment paper and press down lightly with your hand

Use the base of a large mixing bowl to press the tortilla as flat as you can. This gives the tortilla a rounder shape

Next, use a rolling pin to roll the dough thinner. You only want to make about 3-4 passes (up-down, left-right, diagonally) with the rolling pin or else the tortillas will be too thin.

Add the rolled out tortilla to your hot pan and cook for about 1 minute, until small brown circles appear. If this takes longer than 1-2 minutes you should turn up the heat on your pan.

Flip the tortilla and cook for about another minute until this side also has brown spots.

Repeat steps, rolling out each new tortilla as the previous one cooks, until all tortillas are cooked.

If you want to freeze the tortillas, allow them to cool fully. Then, place them flat on a large cookie sheet, not allowing them to overlap. Freeze for 2 hours, then store them in your preferred container.

To re-heat you can either let them thaw on the counter for about an hour before you are ready to eat them or cover them with a lightly damp paper towel and throw them in the microwave for about 30 seconds.