English muffins are an important part of my mornings. They are the perfect vehicle for jam and butter or a satisfying breakfast sandwich. But the real hero of breakfast, which English muffins make possible, is eggs benedict. Seriously, hollandaise, I just can't even express my love for it enough. I think it might be impossible for me to get sick of eggs benedict. It is and has been our Saturday morning tradition for a while at this point and I don't see it changing any time soon.
Anyway, homemade English muffins are an easy way to make breakfast a bit more special and who couldn't use a little extra positivity in the morning? The great news about this recipe is that it really is easy. I won't lie, there are a few steps but, as in life, if you take them one at a time, they are super manageable. Honestly, it is not easy to mess them up too drastically. Take this recipe as one of those easy life wins.
In case you were wondering, these absolutely do freeze well. I like to keep a stash of them in the freezer for spontaneous breakfast sandwiches. And if you felt ambitious one day, you could easily make yourself a cache of breakfast sandwiches to freeze - the ultimate option for sandwich-based impulsivity. Treat your breakfast with abandon...or something like that. Look, don't expect me to make your breakfast slogans for you.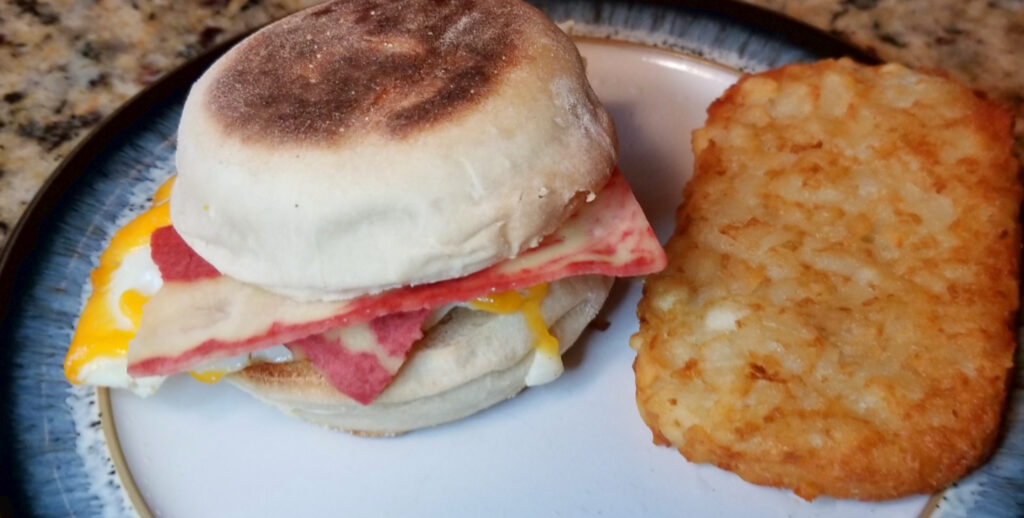 Now, go make yourself a beautiful batch of homemade English muffins. Take a moment to bask in their glory, then, tell yourself how proud you are of your delightful creation. Even easy wins count as important wins.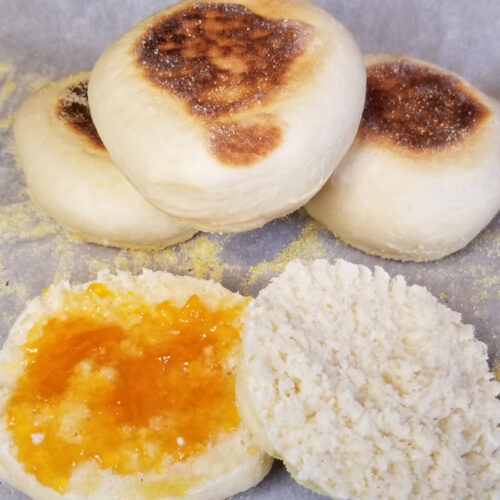 Homemade English Muffins - Easy
These homemade English muffins are an easy way to make your breakfast just a little more special.
Ingredients
3

tablespoon

butter

cut into smallish pieces

1

cup

milk

type is flexible

1

tablespoon

white sugar

1 ¼

teaspoon

active dry yeast

~3

cups

all-purpose flour

divided

1

teaspoon

salt

1

light handful

cornmeal
Instructions
Measure the milk, butter, and sugar into a medium microwave safe glass bowl. Heat mixture in the microwave for 30 seconds, stir the milk to help melt the butter, then heat it for another 30 seconds. If the butter is not fully melting heat for an additional 10 seconds, then swirl until all butter has melted.

Sprinkle yeast over the top of the milk mixture and let it sit for about 5 minutes, until it gets foamy.

Add 2 ½ cups of flour and the salt to the bowl and mix until the dough starts to form. Place dough onto a floured working area. Knead dough for about 5 minutes, incorporating flour as you go, until the dough feels smooth and elastic. This usually takes about ¼-½ cup more flour.

Cover the dough and let it sit for 20 minutes. In the meantime, top a cookie sheet with parchment paper and an even layer of cornmeal.

Roll the dough out gently until it is about ½ inch thick. Flour the edge of a circular cookie cutter, a glass, a mug or other circular implement. Using said circular implement, gently press into the dough and lightly wiggle it until the edges come loose. Spread the dough circles evenly onto the cookie sheet.

When you can't cut any more full circles, gently join the extra dough and roll it out again, repeating until you run out of dough. Depending on the size of your cutting implement this should yield 6-8 English muffins. Cover the muffins and let them rise for 1 ½ hours, or until doubled in size.

Heat a large pan over medium-low heat. Once pre-heated, carefully use a spatula to move the muffins into the pan. Cook them in batches to avoid over-crowding. Cook the muffins on each side for about 3 or 4 minutes, until they are browned, then move the muffins back onto the baking sheet.

Cook the English muffins for 10 minutes. Allow the muffins to cool slightly, then run a fork along the edges to split them. Store extras in the fridge for 4-5 days or freeze, in an airtight container, for 2-3 months.