So, I didn't know I liked brussels sprouts until I got old enough to cook them myself. It's pretty difficult to feel happy about eating bland, bitter, boiled sprouts. This stovetop recipe is quick, easy, and full of flavor, with very few ingredients. It only takes 15 minutes to whip these bad boys up. Which, is a pretty small time commitment for convincing yourself, or your family and friends, that brussels sprouts are not only edible, but also delicious. They pair great with roasted chicken and sour cream mashed potatoes.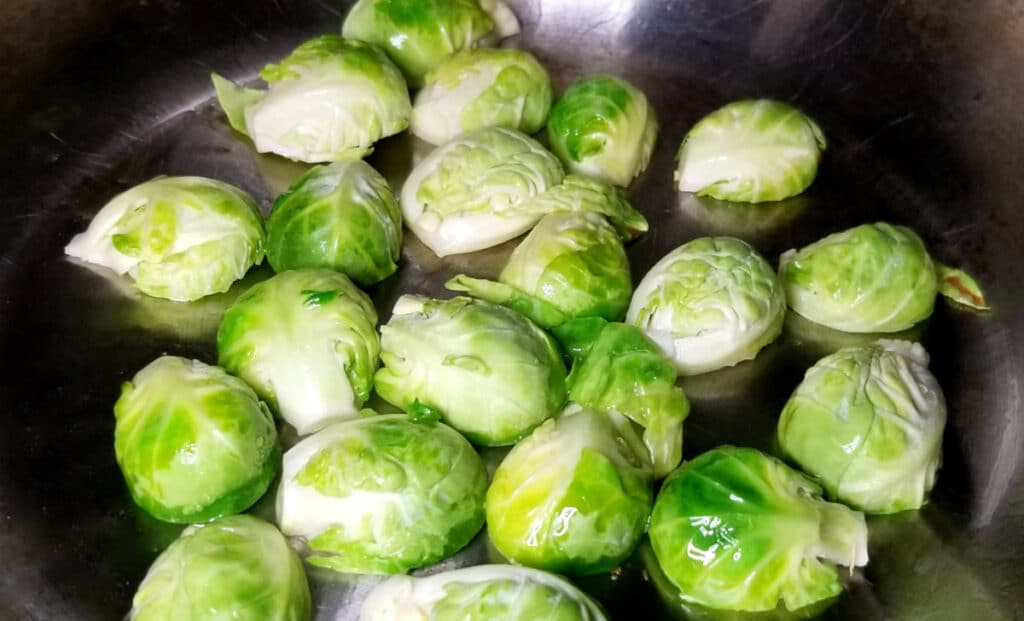 Flavor combinations
One great thing about this method is that it lends itself to a variety of taste profiles. You can keep it really simple with just salt and pepper or go crazy with your favorite seasoning blend. I've outlined some of the possible options below.
Basic: Salt, pepper, garlic (or garlic powder)
Smokey: Cook a couple pieces of bacon in the pan prior to the sprouts. Remove bacon and cut it into bite size pieces. Use the bacon fat in place of oil to cook the sprouts. Add minced garlic to the pan with the chicken stock. Finish sprouts with the chopped bacon, some sliced chives, and salt and pepper to taste.
Herby: Add a half teaspoon each of rosemary and thyme to the pan with the chicken stock. Finish the sprouts with a sprinkle of lemon juice and salt and pepper to taste.
Spicy: Replace olive oil with chili oil, then mix in a tablespoon of chili garlic sauce and a teaspoon of honey with the chicken stock. Season with salt and pepper to taste.
FAQs
Can I double this recipe?
Absolutely, just make sure to use a large enough pan that the brussels sprouts are not crowded. You want them to brown, rather than steam, during the first cooking step. If you make a large amount, you may want to cook them in batches.
What is the best way to store extra sprouts?
Brussels sprouts will maintain best quality in the fridge for 3-4 days. You can also freeze extra sprouts but they are likely to lose some of their structure and bite. Therefore, it's best to just make enough brussels sprouts for the current meal and the next couple of day's leftovers.
When are brussels sprouts in season?
Fall is the best time to buy sprouts (or to harvest them from your garden). They actually taste best after a frost. This means that they make an excellent side dish for thanksgiving, Christmas, Hannukah, the winter solstice, or any other fall to winter holiday.
Other side dishes you might like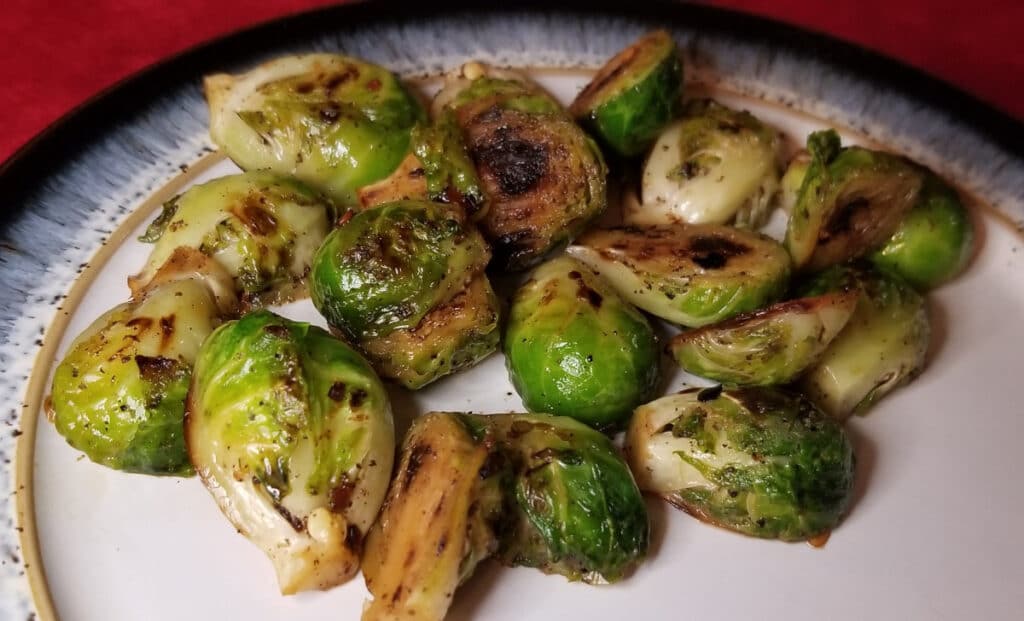 Brown your sprouts, season them with the spices of your soul, then prove all those naysayers wrong. Brussels sprouts are a thing of beauty and so are you.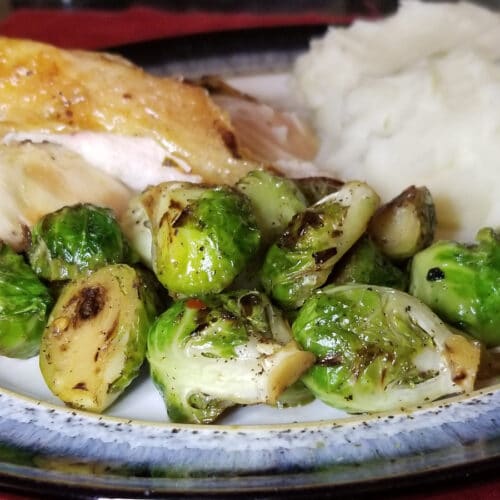 Easy stovetop brussels sprouts
This quick stovetop method of cooking leaves you with perfectly browned and tender brussels sprouts.
Ingredients
1

pound

brussels sprouts

1

tablespoon

olive oil

¼

cup

chicken or vegetable stock

salt and pepper

to taste

Additional spices or add-ins

optional
Instructions
Prepare the brussels sprouts. Wash the sprouts, then cut the woody ends off. Gently remove the outer few leaves, then cut the sprouts in half. If you have a particularly small brussels sprout you can leave it uncut. Conversely, if there is a rather large sprout, cut it into quarters instead.

Heat the olive oil in a large pan over medium high heat. Add the sprouts, cut side down in an even layer. Let the brussels sprouts cook on this side without mixing for about 5 minutes, until the cut sides are nicely browned. Then, stir the sprouts and continue cooking for another 2 minutes.

Add the chicken or vegetable stock to the pan, stir quickly, then cover the pan. Allow the sprouts to cook covered for another 4-5 minutes, until they have softened some but still have a little firmness.

Season the brussels sprouts with salt, pepper, and your choice of additional optional seasonings.