Smores remind me of fall. Of camping and spending all night in front of a big ol' campfire. As much as I love fires, many summer days are just too hot for them. These smores bars are the perfect flavor fix to get you through until weather permits. Besides, it's way easier to perfectly brown marshmallows in the oven.
What's in the Smores Bars?
There are of course three essential ingredients for any smores dessert - graham cracker, chocolate, and marshmallow.
Graham cracker: These bars have a graham cracker crust, made in a similar manner as for 7-layer bars. It is crumbly, sweet, and incredibly easy to make. In fact, I melt the butter and mix in the graham cracker crumbs and sugar all in my baking dish, meaning one less item to wash.
Chocolate: The chocolate in this recipe comes from a combination of chocolate chips mixed into a moist, cookie-like center. The chips allow the chocolate flavor to be evenly dispersed across the middle of the bars. Use a mixture of semi-sweet, dark chocolate, milk chocolate, caramel, or butterscotch chips to add depth of flavor.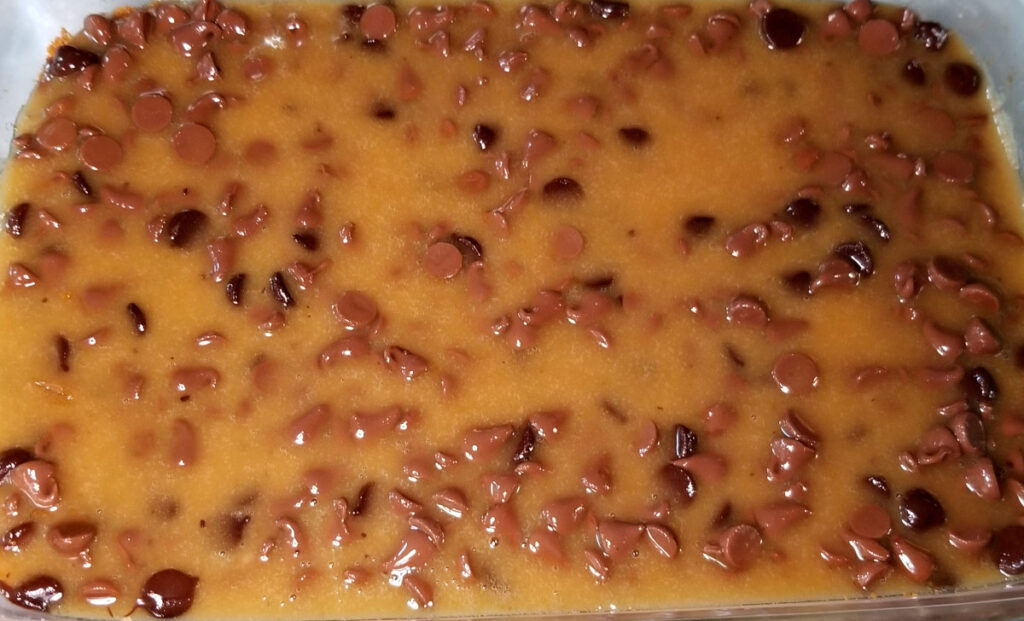 Marshmallow: I had to remake this recipe many times to finally get the marshmallow quite right. While full size mallows make for a beautiful top layer, they create gaps in the top of the bars as they expand and collapse. The key to the marshmallow layer is to use minis and go crazy with them. You want a nice thick layer of minis - don't worry they'll all get toasted perfectly.
Serving Suggestions
Eat them as is. These bars are excellent eaten straight from the pan. Make sure to have napkins around though because, like the real thing, they are a bit of a mess.


Crumble them over ice cream. Turn your vanilla ice cream into a smores extravaganza.


Add them to a blended boozy ice cream drink like frozen mudslides or a mocha milkshake.
How to Store the Bars
Room temperature: These bars will be good for about 1 week at room temperature. To be honest, they rarely last past a single week in our home.
Freezer: For best quality freeze these bars for up to 3 months. They will still be perfectly safe after this point but the quality may deteriorate. To extend the quality of the bars in the freezer, press a layer of plastic wrap tightly onto the top of the bars before covering the container. When you are ready to eat the bars, thaw at room temperature. Don't try to eat them straight from the freezer, unless you really need an excuse to see the dentist. If you are in a hurry, heat them in the microwave for 20-30 seconds before consuming.
Now get those smores bars in the oven, line your clothes with napkins, and remind yourself that some days it's ok to eat dessert for dinner.
Smores bars
A fun and easy dessert that is a big crowd pleaser.
Ingredients
Crust
⅓

cup

butter

melted

1 ½

cup

graham cracker crumbs

2

tablespoon

brown sugar
Bars
½

cup

butter

melted

¼

cup

brown sugar

1

teaspoon

vanilla extract

1

egg

½

teaspoon

salt

¼

cup

all-purpose flour

or your preferred flour

1

cup

semi-sweet chocolate chips

¼

cup

dark chocolate chips

or your choice of chips like milk chocolate, caramel, butterscotch, toffee, etc.

8

oz

mini marshmallows

about half a bag
Instructions
Crust
Pre-heat the oven to 350 °F and grab a 7x11 inch baking dish.

Cut butter into ~ 1 tablespoon pieces and melt it. I can fit my 7 x 11 inch baking dish in the microwave, so I actually melt it straight into that. If that won't work for your set up, just use a small microwave safe bowl and then pour it into your baking dish. Heat the butter for 30 second intervals until it is mostly melted. Then, swirl until it is fully melted.

Pour graham cracker crumbs and brown sugar directly into the baking dish with the butter. Then use a spoon or your hands to combine the crust ingredients well. Once combined, gently press the crust into a thin even layer.
Bars
While the crust cooks, melt the butter in a small bowl, in short intervals, as described for the crust. Allow to cool slightly before proceeding ~2 minutes.

Mix brown sugar, vanilla, an egg, and salt into the butter. Make sure all ingredients are well combined before proceeding.

Add in flour and mix until just combined.

Gently mix in chocolate chips (or your chosen combination of chips) until just combined.

Pour your mixture over the cooked crust. Use a spatula to spread the mixture into an even layer. The layer may seem thin but it will do its job.

Cook the bars for another 10 minutes.

Pour the marshmallows over the top of the bars. You want an even layer that is about 1 - 1 ½ inch thick. That generally takes about a half a bag of mini marshmallows for me. Don't skimp on this step.

Cook the bars for 15 minutes, until the marshmallows are toasty brown.

Remove bars from the oven and let cool, if you can, until marshmallows have set, before cutting them.