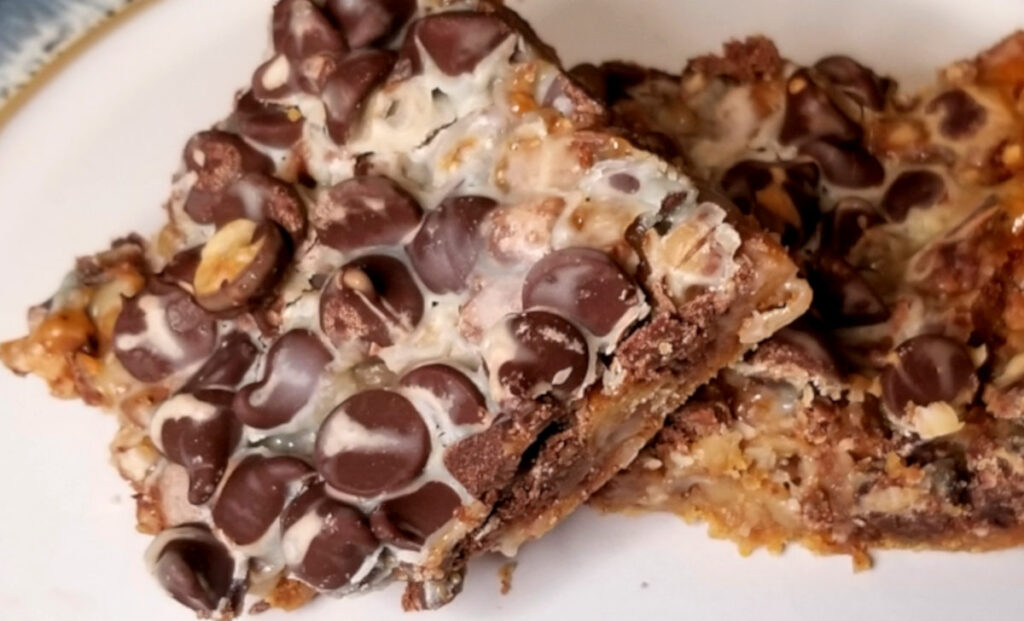 Layer bars are a super simple but very flavorful dessert. They are also the first dessert my husband requests when asked. I rarely use condensed milk in my cooking but it is practically made to be used for this recipe. It oozes through the layers of dark and milk chocolate, toffee, and flaky coconut, wrapping them all in a blanket of caramelization. It is a thing of beauty and everyone could use more of that in life. Besides, these are dark chocolate toffee bars, so they are basically required to be good.
The fun thing about layer bars is that you can easily alter them to your taste. For our household, dark chocolate toffee bars are just right. You are an individual and your layer bars are your canvas. Express yourself with chocolate, caramel, toffee, nuts, coconut, butterscotch, pretzels, or anything else you love. Follow my recipe if it matches your dessert dreams, but if not, paint it with the colors of your heart - or stomach. If you find that you like tossing a bunch of ingredients into an easy dessert, you will also like my brownie recipe.
You caught me, these are effectively seven layer bars. Except, technically, the butter is a layer, so it is more like eight. But look, my heart told me that I needed seven additional layers and you shouldn't ignore your heart when it speaks to you. So, throw out the rule of seven layers, you don't need that kind of negativity in your life.
You have made the most difficult dessert decision by choosing your ingredients. Great job, you are an excellent decision maker. Now, pour your layers, toss that baby into the oven, and tell your heart that you appreciate its insight. As always, take care of yourself, even if it's with lots and lots of chocolate.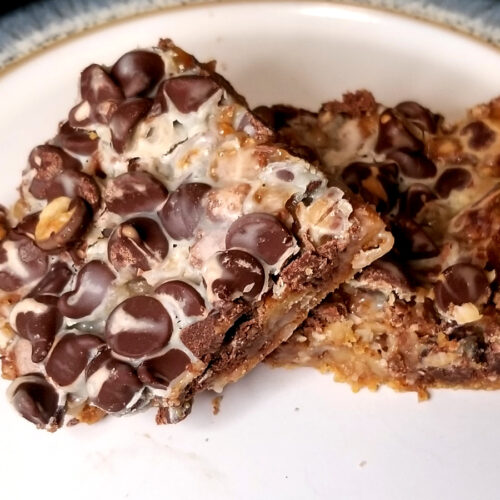 Dark Chocolate Toffee Bars
Condensed milk oozes through layers of dark and milk chocolate, toffee, and flaky coconut, wrapping them all in a blanket of caramelization.
Ingredients
½

cup

unsalted butter

melted

1½

cups

graham cracker crumbs

¾

cup

sweetened coconut flakes

1

cup

walnuts

or favorite nut

1

cup

dark chocolate chips

1

cup

toffee pieces

1

cup

semi-sweet chocolate chips

1

14 oz can

sweetened condensed milk
Instructions
Pour melted butter into a 9x13" glass baking dish.

Measure the graham cracker crumbs into the baking dish.

Use your hands to mix the butter and graham cracker crumbs.

Distribute the butter crumbs, patting them down gently, so that they cover the bottom of the baking dish equally.

Layer the rest of the ingredients, besides the condensed milk, over the graham cracker crust.

Pour the condensed milk evenly over the top of the other layers.

Bake for 25-30 minutes, until the edges of the bars start to caramelize.