I love the simplicity of beef stroganoff. Without a ton of ingredients, this pasta still oozes rich, umami flavor. They also happen to be relatively affordable and common ingredients, making it a frugal option. Besides, I am a huge sucker for the flavor of mushrooms.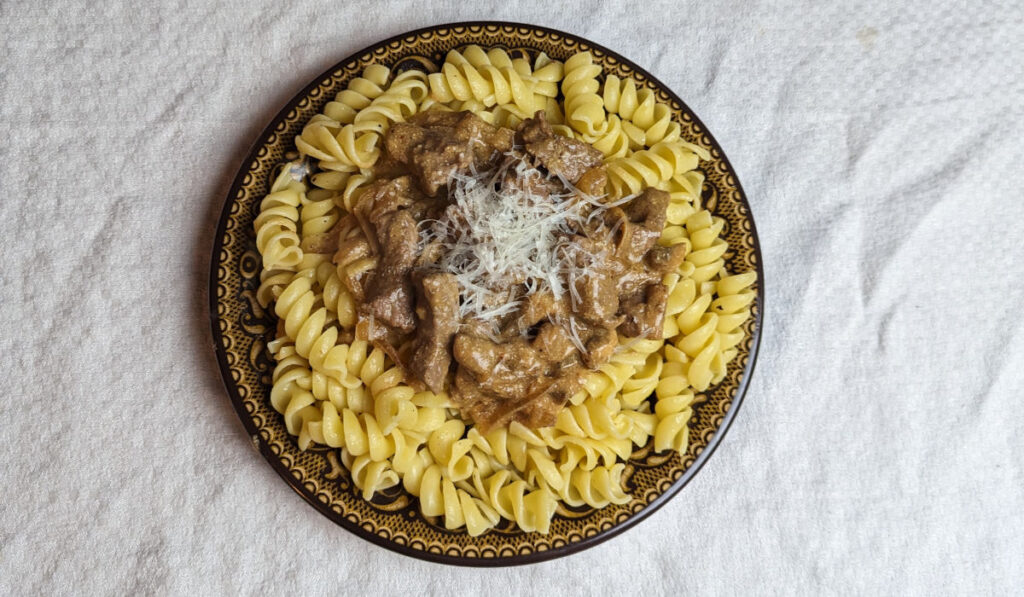 Ingredient substitutions
Meat: In this recipe I recommend using a cut of top sirloin. The reason that I love top sirloin for this recipe is that it is an inexpensive cut of meat, that still has a lot of flavor, and does well with a quick sear. Other cuts that will work well for beef stroganoff include:
Boneless ribeye
Flank steak
Strip steak
Ground beef (cook until fully browned instead of searing if you go this route)
Learn more about the cuts of beef
Mushrooms: Mushrooms are a huge part of what gives this recipe its strong umami flavor, owing to the delicious compound glutamatic acid. Read about a cool study looking at the flavor enhancing effects of mixing mushrooms with meat. My recommendation for this dish is to use either button or cremini mushrooms but you could also use baby bellas.
Pasta: Very frequently wide egg noodles are used for beef stroganoff. Other options are rotelle, fusilli, cavatapi, and rotini pastas. Frankly, you can use any pasta that is short and, preferably, has some twists in it to catch the sauce. Pasta types with pictures.
How to make this recipe easier
The hardest parts of this recipe are having to cut up the ingredients and making the pasta. If those aren't things you can do today don't trouble yourself.
Use pre-cut mushrooms and beef.
Use frozen onions or leave them out entirely.
Instead of pasta buy some microwave mashed potatoes to use as the base.
FAQs
Can you freeze beef stroganoff?
You certainly can freeze beef stroganoff. It is best to freeze the sauce separate from the pasta. Freeze for up to 3 months for best quality. Reheat the sauce slowly for best results.
How do you serve beef stroganoff?
My favorite way to eat beef stroganoff is over buttered noodles. However, you can also eat it with mashed potatoes or French bread.
Can beef stroganoff be made ahead of time?
Yes, I recommend making the pasta when you reheat the sauce. Reheat the sauce in a pot or pan over medium-low heat for best results.
More pasta dishes you might like
Now, cook up a batch of beef stroganoff, scarf down your plate, and battle your family for the leftovers. When you ultimately win, remind yourself that you're the best and you can do anything.
Sirloin Beef Stroganoff Sauce
A rich, umami packed, comforting noodle dish. Serve this sauce over your favorite short noodles.
Ingredients
2

tablespoons

vegetable oil

divided

1

pound

top sirloin steak

3

tablespoons

butter

divided

½

large onion

sliced thinly

6

oz

button or cremini mushrooms

cut into fourths or sliced thin

2

tablespoons

all purpose flour

1

can

beef stock

1 ¾ cup

1 ½

teaspoons

dijon mustard

¼

cup

sour cream

salt and pepper

1

box

favorite short pasta

rotelle, rotini, and wide egg noodles all work well

shredded parmesan

optional

fresh parsley

optional
Instructions
Trim big pieces of fat from sirloin, then slice into ¼ inch thick strips that are about 1 ½ inches long. Be sure to cut against the grain.

Heat 1 tablespoon of oil over medium high in a large heavy bottomed pan. Make sure the pan is hot by flicking water into the pan and checking for a strong sizzle, before adding the meat.

Add half of the meat to the pan, in a single layer. Sprinkle the tops with salt and pepper. Cook the first side for about 1 minute, then flip and cook for another minute. If you use a flank or skirt steak, reduce time to 45 seconds per side, as overcooking will make these cuts tough. Move the meat to a bowl, then repeat with the rest of the meat.

Turn pan down to medium and then melt 2 ½ tablespoons of butter in the pan. Scrape the browned meat from the bottom of the pan and incorporate it into the butter. Add onions to the pan and sprinkle with ~½ teaspoon of salt. Cook, stirring occasionally for about 3 minutes, then add in the mushrooms. Start heating pasta water now.

Continue to cook the mushroom mixture for about 8 minutes, until the onions and mushrooms are softened and browning. Mix flour into the mushrooms and onion and stir until all flour is wetted. Slowly pour broth into the pan, while continuously stirring the mixture. Add mustard and sour cream to the pan and mix well. It will look blotchy from the sour cream but the sour cream will blend in more as the sauce heats up. Bring the sauce to a simmer, then stir and reduce heat to maintain a light simmer. Cook sauce, stirring every minute or so, for about 10 minutes, until the sauce slightly thickens and the sour cream blends into the sauce.

Add steak and accumulated juices back to the pan and stir to incorporate. Cook the sauce for about 2 more minutes, then remove the pan from the heat. Adjust salt and pepper to taste.

Meanwhile, salt your pasta water, then add your pasta and cook according to box directions. When your pasta is cooked, drain, then mix with ½ tablespoon of butter and salt and pepper. You want them to be just slightly salty so add a little salt, then taste a noodle and re-assess.

Plate pasta, then spoon sauce over the top. Garnish with shredded parmesan and fresh parsley, if desired. Store the extra sauce separate from the pasta in the fridge for 4-5 days or in the freezer for up to 3 months for best quality.