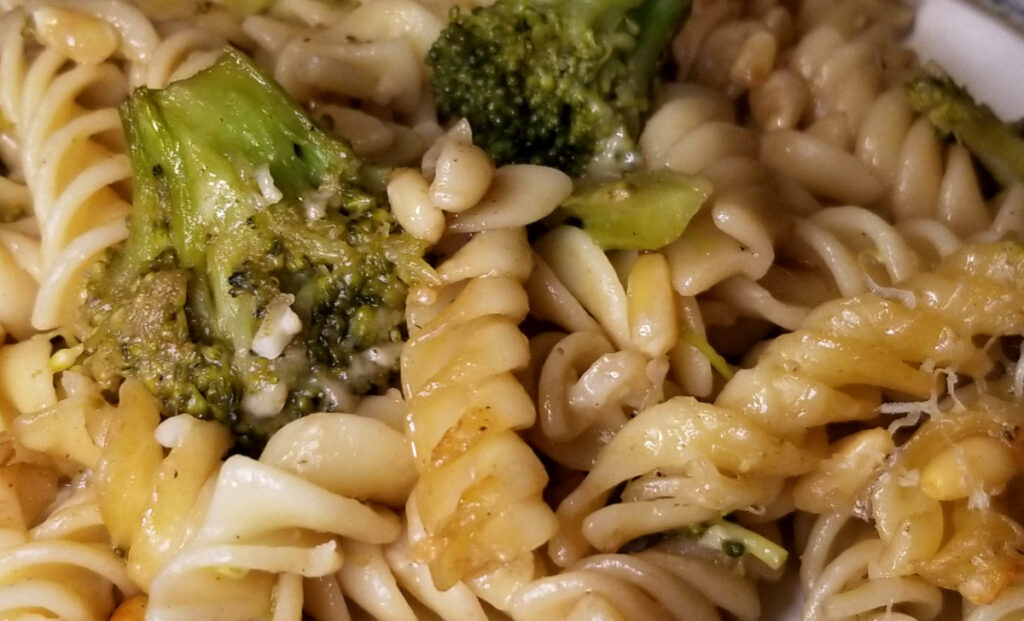 This dish brings me back to high school. It was one of my favorite meals that my, now, mother-in-law made. This version of broccoli pine nut pasta is a little different from the dinner's I enjoyed at her home, but it is just as comforting. It is a cheesy, crunchy, broccoli-filled, mess of noodles that delivers the warm fuzzies to your body and your mind. Although this is a comforting dish, it still provides a nice punch of nutrition from the pine nuts and broccoli.
Toasted pine nuts are a really lovely and often under-utilized ingredient. They are high in protein, have a rich nutty flavor, and add extra texture to your dish. These tasty morsels can be gathered from at least 20 different pine species, though two species are commonly harvested for this purpose, primarily due to the large size of the nuts. These nuts are a bit spendy, owing both to the long lead time before harvest and the complexity of the harvest itself. As a result, I like to buy them in bulk and freeze the extras. I'm not sure who needs to hear this, but if you want them to last, freeze your dang nuts!
I'll be honest here. I find it difficult to leave a whole lot of leftovers with this dish...it is a little addicting. However, should you have more control than I do, this broccoli pine nut pasta freezes surprisingly well. Of course, the noodles will not stay crispy, it's not made of magic. However, the flavor and the texture from the pine nuts will remain strong as ever.
So bake yourself a batch of pasta, let its comforting warmth wash over you, and remind yourself that you are great at self-soothing.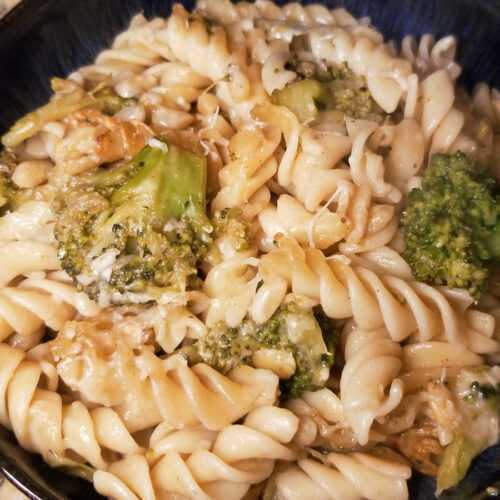 Pine Nut Broccoli Pasta
A crispy butter balsamic pasta dish featuring pine nuts and broccoli. It's a simple recipe but it's warm and comforting, a perfect end for the day.
Ingredients
2

teaspoon

kosher salt

16

oz

rotini pasta

or your favorite short noodles

1 ½

cups

broccoli

chopped into small pieces, or use frozen

2

oz

pine nuts

about 2 ⅓ cups

⅓

cup

balsamic vinegar

1

tbsp

olive oil

3

cloves

garlic

minced

1

cup

chicken or vegetable stock

½

teaspoon

table salt

plus more to taste

3

tablespoon

butter

½

teaspoon

black pepper

1 ½

cups

shredded parmesan

divided
Instructions
Bring a large pot of water to a boil, add kosher salt, then cook pasta to al dente, according to the directions on your pasta.

During the last 2 minutes of cooking, add the broccoli to the pot.

Drain pasta and broccoli, pour back into the large pot and mix in the butter.

Meanwhile, heat a small saucepan over low heat.

Add pine nuts, then continue heating until lightly brown and they give off a nice nutty aroma, ~5 minutes. Be sure to frequently shake the pan during this process.

Set pine nuts aside, then pour balsamic vinegar into the saucepan.

Turn the heat up to medium until the vinegar begins to simmer, then reduce the heat to just high enough to maintain a very light simmer.

Cook down the balsamic vinegar until about 3 tablespoon remains, then pour it into the pot with your drained pasta, mixing to combine.

Pour olive oil into the saucepan and place it on the stove over low heat.

Add the garlic and cook, stirring frequently for 1 minute.

Add stock to the pot, then bring to a boil.

Reduce to a simmer and cook for ~5 minutes.

Season the stock with salt and pepper, then pour it over the pasta.

Into the pasta pot add pine nuts and half of the parmesan, then stir to combine.

Lightly oil or spray a 9x13 inch baking dish.

Distribute pasta evenly into the baking dish, then top with the rest of the parmesan.

Let the pasta rest for about 5 minutes before diving in.