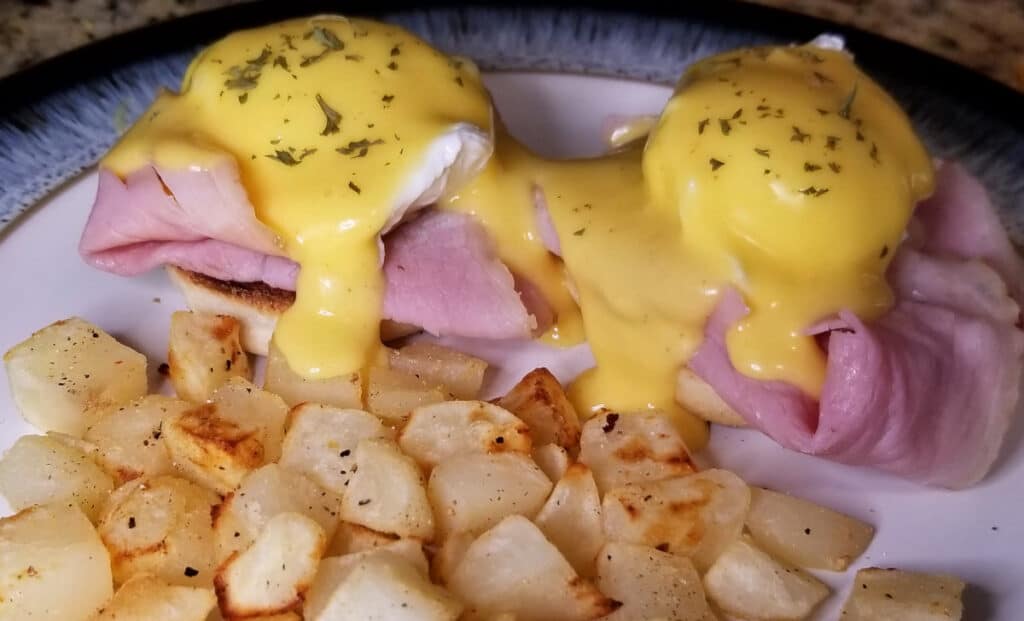 Eggs Benedict is by far my favorite breakfast meal. My love affair started when I first visited my favorite local breakfast restaurant, Fat Nat's. Their hollandaise is perfect and I honestly have no idea how they do it - probably witchcraft or something. This recipe is my closest approximation to their amazing sauce and it's a crucial part of our financial wellbeing. Going broke by benedict is a far too probable scenario in our household. Besides, I can't leave my homemade English muffins (recipe below) naked - that's obscene.
Variations
I love a classic Eggs Benedict but sometimes I like a little twist. If you are looking to spice up your Benedict, try replacing ham with one of these alternatives.
Sautéed vegetables or mushrooms - try onion, broccoli, bell pepper, zucchini, tomato, or your favorite edible mushroom.


Avocado - enough said.


Pulled pork- a great use for leftovers


Italian sausage patty - keep it mild or start your morning out spicy.


Smoked salmon
Tips for making hollandaise
Use a stainless steel bowl: To make a double boiler for hollandaise you will want to use a stainless steel bowl that fits over your pot without touching the water within. Glass bowls take longer to heat in the double boiler, meaning that you'll be whisking for a lot longer before your sauce thickens. No such problem with steel - your arm will thank you.
Keep a low simmer and don't stop whisking: The double boiler should be at a low simmer before the egg bowl is added to the top. Once you have put the egg mixture over the double boiler, make sure to continue whisking until the sauce is done. If left un-whisked or if the heat is too high, you risk the egg becoming cooked and curdling. If this happens, abandon ship, as it's no longer salvageable.
Thin overly thick hollandaise: If you get to the end of the sauce making process and you think that it looks a little too thick, that's an easily fixable problem! Simply add a few drops of heavy cream or water, whisking until it reaches your desired viscosity.
Tips for poaching eggs
Add a tablespoon of vinegar to your egg water: Before heating, add 1 tablespoon of white vinegar to the water in your pot. This will keep your eggs together, preventing the dreaded egg spread. Vinegar makes the water more acidic, which helps to cook the egg more quickly, before it has time to separate much. This step is basically the key to a perfect poached egg.
Check the doneness of the eggs : Depending on how you prefer your eggs, you'll want to poach them for 3-4 minutes. If you like a runny yolk, cook them for 3 minutes, then poke them gently with your finger - the whites should be cooked through and the middle should have a little give. If you like your eggs a little more solid, cook for the full 4 minutes.
More breakfast recipes
Prepare your arm for whisking, your eggs for poaching, and your mouth for watering. Start out your morning in pure bliss, it's worth the effort.
Eggs Benedict
Creamy hollandaise over perfectly poached eggs, your choice of toppings, and homemade English muffins. The best way to start the day.
Ingredients
Hollandaise
4

egg yolks

1

teaspoon

lemon juice

½

teaspoon

Dijon mustard

smooth

½

cup

melted butter

2

teaspoons

heavy cream

plus more do adjust thickness

dash

cayenne

optional

dash

salt

to taste
Poached eggs
8

eggs

1

tablespoon

white vinegar
Eggs benedict
4

slices

ham or other chosen topping(s)

8

poached eggs

hollandaise sauce

fresh parsley

optional
Instructions
Hollandaise
Set up your double boiler. Fill a small pot about ⅓ of the way up with water, or so that your stainless steel bowl does not touch the water. Heat the boiler, sans metal bowl, until it has reached a simmer, then turn down the heat to maintain just a light simmer.

Meanwhile, place the egg yolks, lemon juice, and Dijon in your stainless steel bowl (off of the heat). Whisk the mixture until it has about doubled in volume.

When the water and the egg mixture are both ready, place the egg bowl on top of the pot and begin whisking vigorously. Slowly pour the melted butter into the bowl as you whisk. Keep an eye on the temperature of the eggs; the water should stay at a light simmer, and the continuous whisking is a must. Continue to whisk until the sauce thickens and gains volume. Check the thickness of the sauce by dipping the back of a spoon into it and seeing how readily it falls off the spoon.

Once the sauce has thickened, remove it from the heat and whisk in the cream, cayenne, and salt. Cover the sauce and set it aside in a warm area until the rest of the dish is ready. If the sauce is thicker than you prefer, add a few drops of cream or water, just before serving, until desired thickness is reached.
Poached eggs
Fill a medium sized pot about ¾ full with water and add the vinegar. Don't leave the vinegar out or it will make your job harder.

Bring the water to a boil, then turn the heat down to a simmer. Drop the eggs into the water one at a time.

Cook the eggs for 3-4 minutes, depending upon your preferred egg consistency. If you like a runny yolk, check on the eggs after 3 minutes. When poked gently with a finger, the whites should feel cooked but there should be some give in the middle. If you prefer a more cooked yolk, cook for the full 4 minutes.

Use a slotted spoon to remove the eggs from the boiling water, when they're done to your liking, and place them on a kitchen towel to gently blot them dry.
Eggs benedict
Slice and lightly toast the English muffins.

Prepare your preferred topping (s) such as ham, sautéed vegetables, or Italian sausage and place them atop your English muffin halves.

Add a poached egg to each muffin half, then drizzle with the hollandaise. If desired, top the benedicts with a sprinkle of fresh parsley.
Notes
If your sauce curdles, there is no fixing it. Unfortunately, you'll have to start over.