I'm not saying that my marriage hinges on my ability to prepare a solid oatmeal chocolate chip cookie...but it might rank in his top ten favorite things about me (Note: Elias was not consulted about this claim but it's my blog so I can say what I want). Anyway, there really is something special about a chewy, gooey oatmeal chocolate chip cookie. This recipe takes the nostalgic combo up a notch by incorporating toasted oats.
Baking Tips
Toast the oats before baking. While this step isn't necessary, it brings out the nuttiness of the oats and allows you to add spices directly to them before incorporating them into the dough.
Don't overmix the dough after adding the oats. Prior to this step go wild on the mixing, if that's the kind of thing you need in your life. After you add the oats though you need to tone it down or else you'll end up with flat, crispy cookies. What happens when you overmix cookie dough?
Chill the dough before baking. I know, it can be a real bummer when you are all set to make dough and then realize it's going to take an hour longer than expected because of the chilling step. The cooler the dough is (within reason) before it goes into the hot oven, the less the cookie will spread out, resulting in tall, soft, and chewy cookies. Unfortunately, if you want this recipe to turn out right, you'll have to commit to chilling the dough. Sometimes we all have to make sacrifices.
Variations
Substitute ½ cup of semi-sweet chocolate chips for dark chocolate chips - perfect when you need to express to someone that you're feeling kind of bitter. Passive aggression is the Minnesota way, after all.
Flavor the oats before toasting them. This recipe calls for cinnamon, nutmeg, and brown sugar but no one can stop you from concocting your own combination. Drizzle them with melted caramel or chocolate, dust them with pumpkin spice, or add a little sea salt. You get to decide.
Storing the cookies
At room temperature: Let the cookies cool completely before putting them away. Store them in an air tight container for about 5 days, for best quality.
Freezer: After cookies have cooled, store them in a sealable bag (or environmentally sound alternative), in the freezer for up to about 3 months, for best quality. Alternatively, freeze the dough in rounded mounds prior to cooking. Instructions for freezing and baking frozen cookie dough.
Get your oats toasted and your cookie dough mixed (but not overmixed) and remind yourself that you already put extra effort into making dessert so no one can complain that you haven't done enough for the day. Take care of yourself.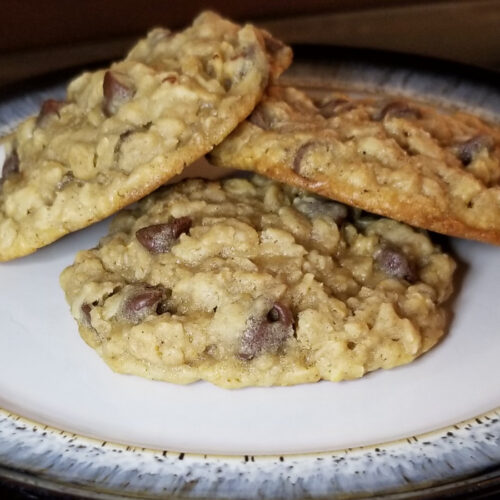 Toasted Oatmeal Chocolate Chip Cookies
These oatmeal chocolate chip cookies are chewy, gooey, toasty, and full of nostalgia.
Ingredients
Toasted Oats
3

cups

old-fashioned/rolled oats

½

teaspoon

brown sugar

½

teaspoon

cinnamon

dash

nutmeg
Cookies
1

cup

unsalted butter

softened

¾

cup

brown sugar

½

cup

white sugar

2

eggs

2

teaspoons

vanilla extract

1

teaspoon

baking soda

¾

teaspoon

salt

3

cups

toasted oats

1 ½

cups

all-purpose flour

2

cups

semi-sweet chocolate chips
Instructions
Toasted Oats
Line a large rimmed baking sheet with parchment paper.

Mix all of the toasted oat ingredients on the parchment paper, then spread it out into an even layer.

Toast oats for 5 minutes.
Cookies
Cream together butter and sugars for ~3 minutes in a bowl or the bowl of a mixer, until smooth.

Mix in the eggs, one at a time, then vanilla, salt, and baking soda.

Once well mixed, pour the oats into the bowl and fold them in.

Add the flour, mixing just until combined.

Fold in the chocolate chips gently.

Cover the dough with plastic wrap or an environmentally friendly alternative and place in the refrigerator for 1 hour.

Gently roll the dough into 2 tablespoon size balls and space them about 2 inches apart on your parchment lined baking sheet. If you make the cookies in two batches be sure to put the dough back in the fridge until you're ready for the next batch.

Bake for 12-14 minutes, until the cookies are lightly browned on the edges.