Perogies are a delightful snack for any day of the week. Usually the preparation of perogies takes a lot of time and effort and while that is sometimes worth it, other times it just is not. This recipe only has two ingredients and the prep takes as long as you are willing to fold and seal wonton wrappers. Then you just throw them in the air fryer and ta-da you have yourself some perogies for a lot less time, energy, or money than usual. If you have the energy to fold more than you can eat, they also freeze very well. I do a whole pack of wonton wrappers at a time, so I make around 50 and eat them over a couple of months.
Ingredients
Mashed potatoes: Use store bought or leftovers. If you have the energy, make your own sour cream mashed potatoes.
Wonton wrappers: I use store bought, like the ones made by Nasoya. If you have the energy to make your own try this recipe from the woks of life.
Optional mix in ingredients
Cheese: It is hard to go wrong by adding some cheese to these perogies. Try cheddar, parmesan, asiago, gouda, colby, gruyere, or whatever you have in available in your fridge.
Flavor pops: You can also add little bites of flavor should you so choose. Some add ins include bacon bits, green onion or chives, caramelized onion, and roasted garlic.
How to assemble the perogies
FAQs
Can air fryer perogies be frozen?
Yes they can, in fact they cook best after they've been frozen! To freeze them so they don't stick to each other lay them on a large cookie sheet, place in the freezer for 1-2 hours, then move them to an airtight container. They'll maintain their quality for about 3 months.
How long does it take to cook perogies in the air fryer?
It takes just about 7 minutes at 400 °F to cook perogies in the air fryer.
Do you have to air fry these perogies?
Nope, if you want to make them in the oven they'll just take a little longer. To bake them instead, give them a small coating of olive oil or cooking spray, then cook them at 400 °F for about 20 minutes.
Should you use warm or cold mashed potatoes to make these perogies?
You want to let the mashed potatoes cool until at least room temperature before adding them to the wrappers.
How to serve perogies
Sauces: You can eat the perogies as is or dip them into a sauce. They taste great with horseradish sauce, aioli, ranch, sour cream, or a cheese sauce.


Toppings: Some possible toppings for your perogies include crispy or green onions, caramelized onions, or bacon.


As a side: Serve perogies with some roasted chicken, asparagus, or balsamic broccoli.
Make as many or as few perogies as you want to, then spend the rest of your energy eating them and hiding from the world. You deserve it.
More Potato Recipes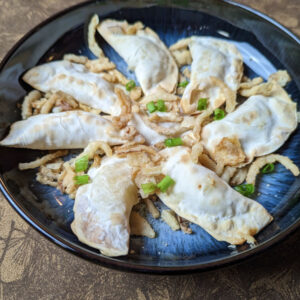 Mashed Potato Air Fryer Perogies
An easy, fast, and cheap version of potato perogies.
Ingredients
1

package

wonton wrappers

about 50 wrappers

24

ounces

or about 3 cups mashed potatoes

leftover or store bought

Any optional additions you want

See recipe notes or post for some options
Instructions
If you use store bought mashed potatoes, cook them according to the directions on the package then set them aside until they reach room temperature. If you are using leftover mashed potatoes skip this step.

Lay down a piece of parchment paper and fill a small bowl with water. Place as many wrappers as you want to do at a time on the parchment paper, leaving a little space between them. Fill the center of each wrapper with about 1-2 teaspoons of mashed potato. Dip a finger into your water bowl and make a ring with the water along the edges of the first wrapper, then fold the wrapper in half and pinch the edges to seal. Repeat with remaining wrappers until you have made as many as you feel like making. I usually set up a large cookie sheet to move the folded perogies onto while I do the next set.

If you want to eat the perogies immediately, pre-heat your air fryer to 400 °F and cook them in a single layer for 6-8 minutes, flipping halfway through. If you want to freeze the perogies for later place them in a single layer on a large cookie sheet and freeze them for 1-2 hours, then transfer them to an airtight container. The cooking directions will be the same but may take a minute or two longer than non-frozen.
Notes
Possible add ins: bacon bits, green onion or chives, caramelized onion, roasted garlic, cheddar, parmesan, asiago, gouda, colby, or gruyere cheese.
Nutrition
Serving:
1
perogie
Calories:
34
kcal
Carbohydrates:
6
g
Protein:
1
g
Fat:
1
g
Saturated Fat:
1
g
Cholesterol:
3
mg
Sodium:
86
mg
Vitamin A:
1
IU
Iron:
2
mg